Subscribe
Join the newsletter to get the latest updates.
Members of an organized "Buyer's Club" are buying Olivia Rodrigo and Taylor Swift Eras Tour concert tickets for ticket resellers only to maximize their credit card points, 404 Media has learned. The practice shows how ticket resellers leverage the credit card point maximizing community to create a human ticket-buying botnet allowing them yet another way to bypass Ticketmaster's ticket-buying limits and hoard tickets to resell at high prices while regular fans get left in the dust.
I originally learned about this practice from a credit card "churner" who looks for ways to maximize credit card points and had read my earlier article about how ticket brokers got Olivia Rodrigo tickets: "I am in the credit card churning community, and one of the things we do is take advantage of 'manufactured spend' opportunities," which are opportunities to spending money on credit cards to earn points, without any risk, they said. "One of the methods of manufactured spend called 'buyers groups' and the basic setup is that you buy stuff the group requests (think iPhones, PS5s, laptops) on credit cards (and earn points for those purchases) and then dropship or reship to the group who (hopefully) pay you back and then resell the products."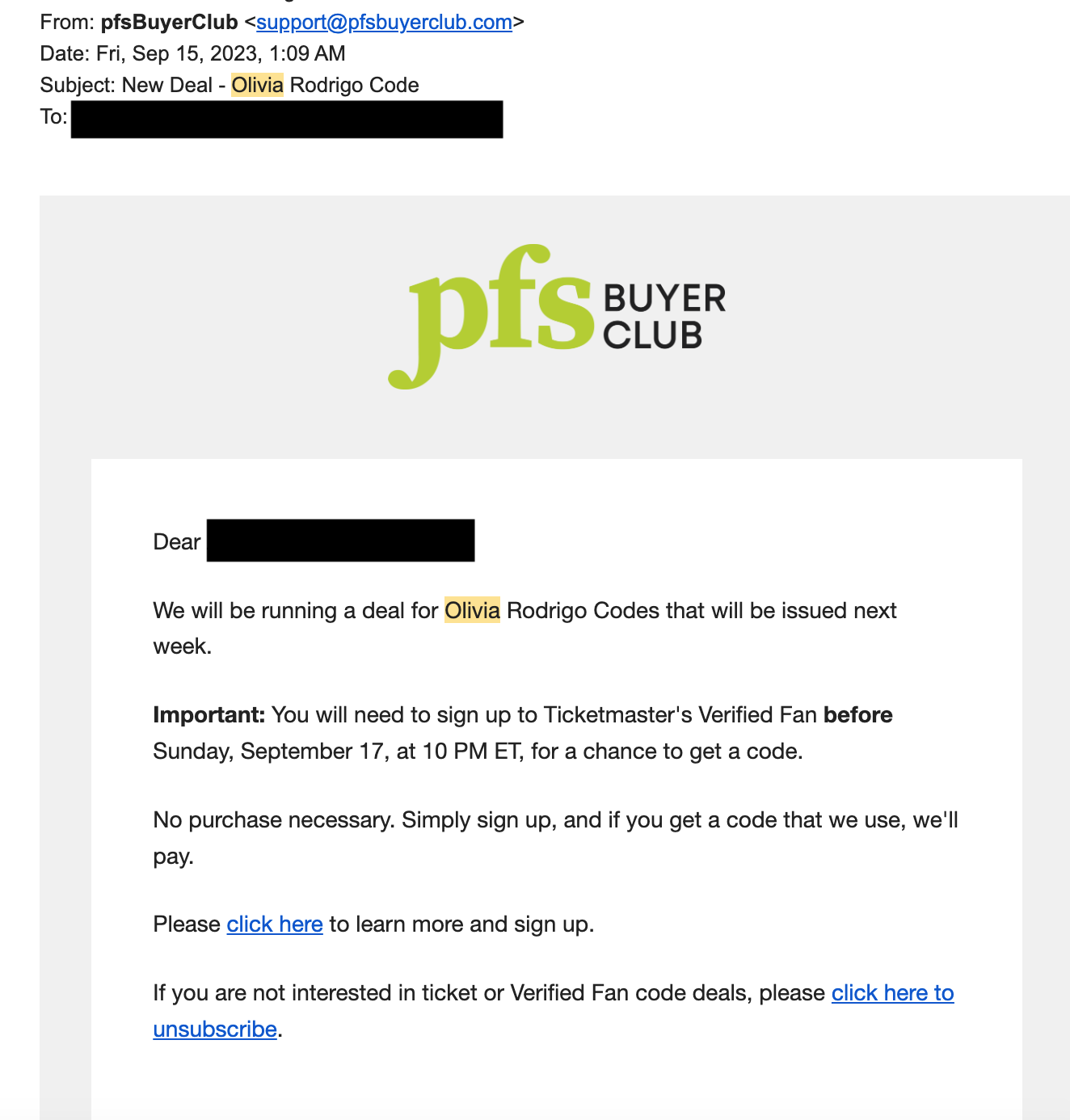 The tipster, who I agreed to keep anonymous because they did not want to get kicked out of the group, then added that a buying group that specializes in buying rare coins from the U.S. Mint and that has "recently branched out into reselling tickets." They then forwarded me three emails sent by a company called PFS Buyer Club, imploring their users to register for Olivia Rodrigo's Ticketmaster presale, and to let their ticket buyers login to club members' Ticketmaster accounts and use their credit cards if they won a code.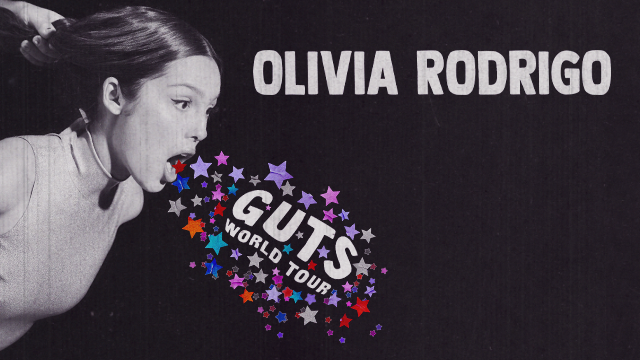 Credit card churners sign up for these clubs, have buying instructions sent to them either by email, chat app, or push notification, and use their cards to buy a product in exchange for a per-order commission, reimbursement of the ticket price, and credit card points. The credit card point maximizers get points without having to risk their own money, and the buyers clubs operators get thousands of people to buy up the limited supply on any given product—in this case, Olivia Rodrigo tickets—that they can resell for profit.
"We will be running a deal for Olivia Rodrigo Codes that will be issued next week," an email to members of PFS Buyers Club obtained by 404 Media said. "You will need to sign up to Ticketmaster's Verified Fan before Sunday, September 17, at 10 PM ET, for a chance to get a code. Simply sign up, and if you get a code that we use, we'll pay."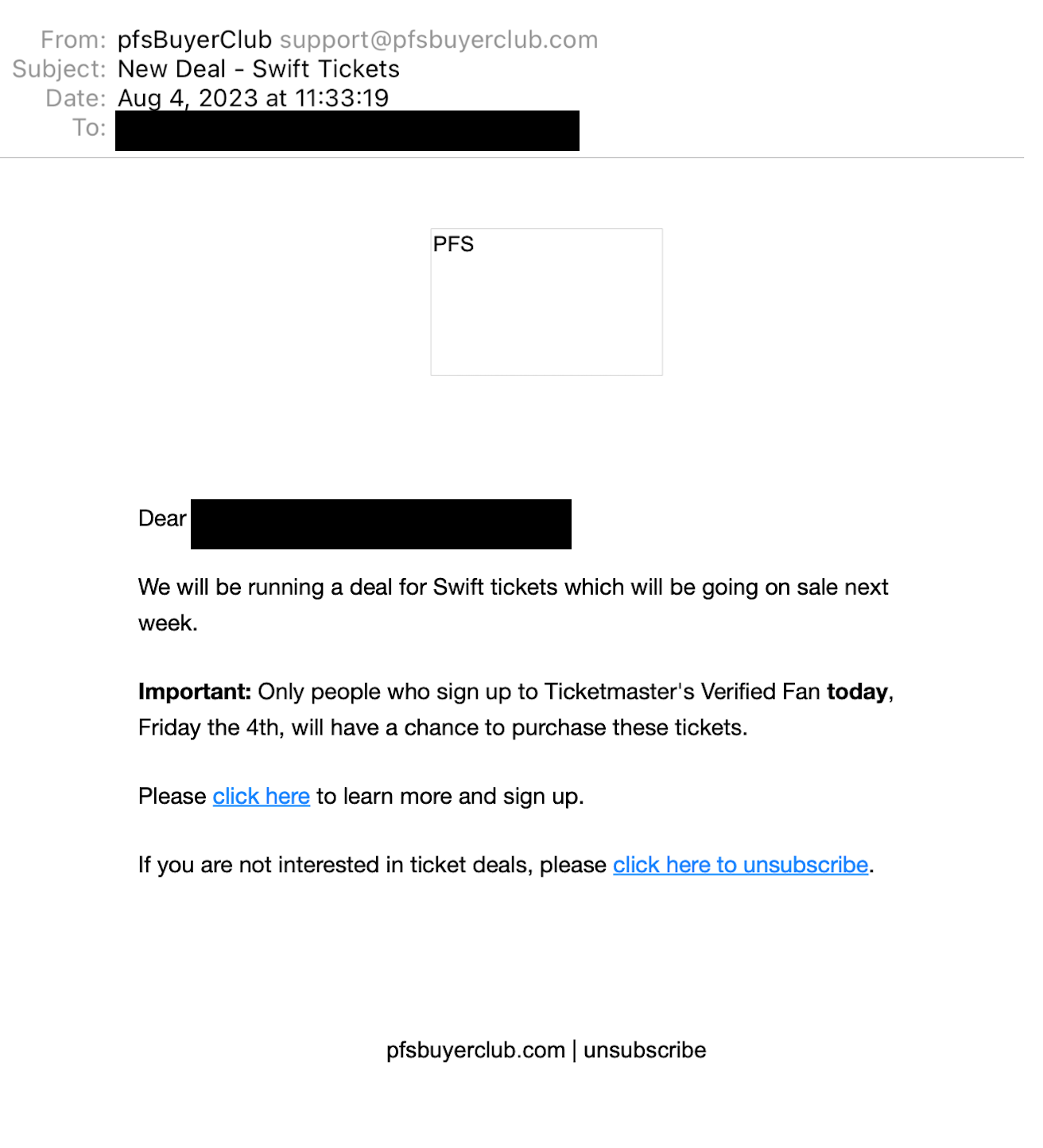 The club then sent a follow up email called "Olivia — got a code?"
"Our deal is paying $100 for a code - if we are able to use it," the email said. "Our ticket purchasers will buy tickets in your account (using your code) and move the tickets out, all within 72 hours (usually within a day)," another email the club sent to its members said. "Be sure not to change your password until the tickets are moved out." The email also said that for shows in specific cities, "Ticketmaster implemented added restrictions and we'll be unable to use your code unless we assume control of your code unless we assume control of your Ticketmaster account. This entails changing the email associated with the account to one of our email addresses, effectively making us the owners of the Ticketmaster account going forward."
Another email that PFS sent its members in August asked them to sign up for Taylor Swift's Verified Fan presale for the second leg of her Eras Tour: "We will be running a deal for Swift tickets which will be going on sale next week," the email said.
🎟️
Do you know anything else about the ticket reselling industry or credit card buyers clubs? I would love to hear from you. Using a non-work device, you can message me securely on Signal at +1 202 505 1702. Otherwise, send me an email at jason@404media.co.
The sale of presale codes is relatively common in the ticket brokering industry, as is the use of "pullers," who are people who are contracted by ticket brokers to try to buy tickets on Ticketmaster using the ticket broker's credit card and accounts (essentially, they are an extra set of hands who can try to buy tickets the moment they go on sale). But before this, I had never seen a situation where a network of random credit card maximizers has been effectively turned into a human botnet for ticket resellers. Concerted and organized ticket buying efforts also put additional stress on the supply of tickets for popular shows, and make it harder for ordinary fans to get tickets.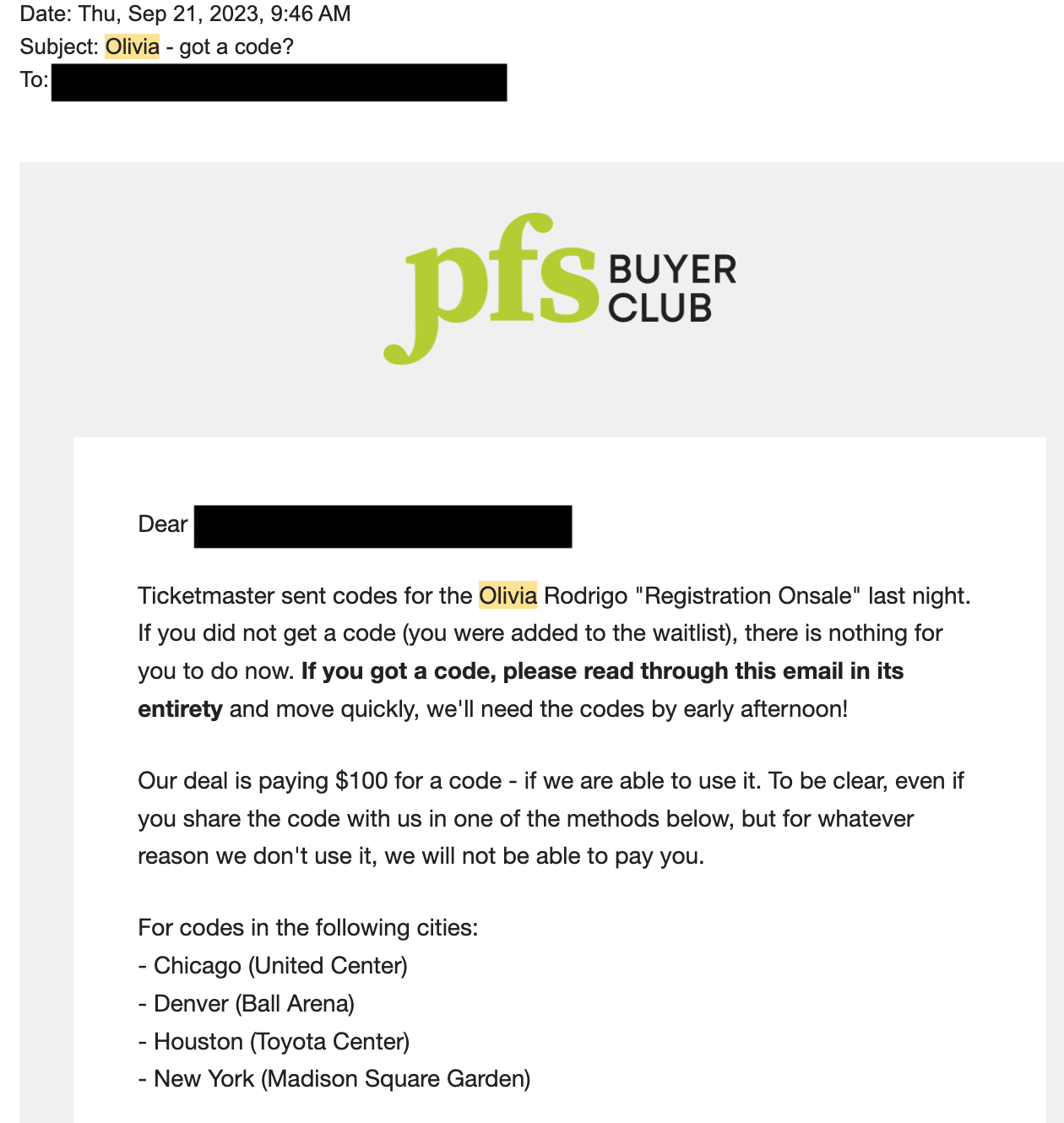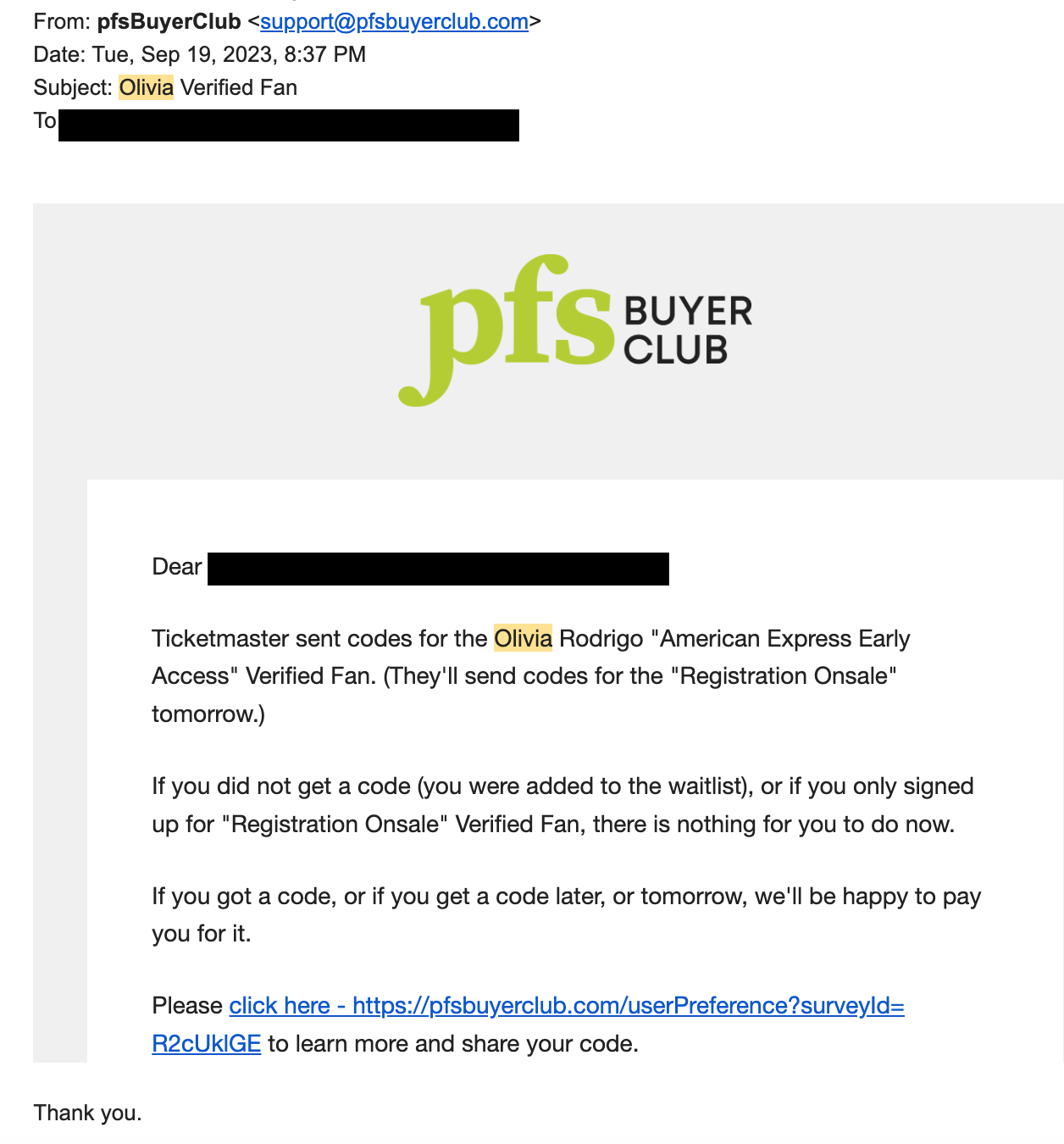 It's currently impossible to say how many of its members actually bought codes and how many bought tickets for Olivia Rodrigo and Taylor Swift, but the club has thousands of members and is well-known among credit card point maximizers.
PFS did not respond to four requests for comment sent over the course of 10 days by 404 Media. Ticketmaster told me "We are constantly putting up new defenses and identity management tools to weed out suspicious accounts, but with $6 billion dollars on the table for reselling concert tickets each year scalpers are incredibly motivated to find new ways to cheat the system. We'd love to see laws giving artists more control over how their tickets can be resold to deter this and other nefarious tactics."
Rise of the 'Buyers Clubs'
Credit card "churning" is a hobby in which people spend their time and money trying to figure out ways to take maximum advantage of credit card signup bonuses and rewards programs to accumulate lots of rewards points or frequent flyer miles that can be redeemed for flights, hotels, cash back, and other perks. There are many substantial online communities, websites, and podcasts for "churners"—the r/churning Reddit community has 548,000 members, for example.
There are a few legendary hacks, loopholes, and deals that churners have used to get millions of points without risking any of their own money. The most famous of these was a "Dollar Coin Loophole" in which people used their credit cards to buy thousands of dollars worth of dollar coins from the U.S. Mint. They then took those coins to the bank and got their money back, allowing them to "spend" money on their credit card—earning them points—without any risk. The U.S. Mint closed this loophole in 2011, when it stopped allowing people to buy dollar coins with credit cards.
The U.S. Mint itself is still a big part of churning culture, however. As churners sought ways to spend money on their credit cards without taking on any risk themselves, the concept of "Buyers Clubs" emerged. Buyers Clubs are large communities where members offer to use their credit cards to buy something on behalf of someone else. That third party will then immediately reimburse the buyer and will often offer them a commission.
It's easiest to explain this with an example: There is a huge collectors and resale market for rare and limited edition coins issued by the U.S. Mint. When these coins go on sale, they often immediately sell out. A normal collector or a reseller might be able to login to the U.S. Mint's website one time when the item goes on sale. If it sells out before they get the coin, they're out of luck. Buyers Clubs work with the collector or reseller, and use their army of willing credit card holders to take more bites at the apple. Any member of the buyers' club who succeeds at actually buying the coin gets reimbursed and a commission from the club, which functions as a middleman for the collector or reseller.
There are various buyers clubs, some of which are invite only or operate clandestinely. Three churners I spoke to said PFS Buyer Club is known for having a good reputation, and it also has a website that anyone can join, so it's often the first buyers club that people come across.
A whole section of the FlyerTalk travel deals forum is focused on "Manufactured Spending," and has tens of thousands of posts about ways to spend money on credit cards without actually having to spend money. Threads include "Stop & Shop and Giant supermarkets gas rewards points on gift card purchases," "Buying Money Orders at Walmart," and "Buying Groups." The r/churning subreddit has many posts about buyers clubs and a weekly "Manufactured Spending" thread. A thread called "New Coin Deal," on a website called Dan's Deals is about PFS Buyers Club, has been going since 2016 and has been viewed more than a million times.
I reviewed the sites for six different buyers clubs. Most of them seem to focus on asking members to buy high-end electronics so that the buyers club (or a third party) can resell them. Buyers clubs were offering to reimburse and pay a commission to people who were able to buy Playstation 5 consoles and have them shipped to specific warehouses in sales tax-free states like New Hampshire and Delaware. The clubs also often ask people to buy electronics when they're deeply on sale or when there's a mistake price, with the hope of reselling them later at a higher price. A site called BuyForMeRetail is currently offering to pay members $24 for an Amazon Fire TV Stick that is on sale for $22.99 (normal price: $50).
PFS, on the other hand, has focused almost entirely on rare coins. "Over this last decade, PFS has acquired business relationships with large national and international buyers for many limited and hard to obtain items," PFS's website says. "We have also grown a network of buyers who enjoy making money without risking anything. Our buyers need the items, our members earn riskless profits, and we earn a bit in between. Everybody wins."
A specific previous deal from March 2022 was for a "limited edition American Eagle Four-Coin Set" that cost "either $5,332.50 or $5,240," according to an "opportunity" email obtained by 404 Media. The email noted that the Mint allowed only one order per household. "You will have each order shipped to your own house or office and then ship it to PFS Buyers Club with a prepaid shipping label that we will provide for you. PFS will be offering a commission of $162.55 for each Four-Coin set. This is also a great opportunity to earn valuable points/miles on your credit cards, as well as meet any spending thresholds."