Subscribe
Join the newsletter to get the latest updates.
Members of the vintage Mac community are in desperate need of a new supply of a specific, discontinued dongle that has become increasingly rare and extremely expensive on the secondary market.
"Bring Back the Belkin F2E9142-WHT ADC to DVI Cable for Vintage Apple Macs!," a change.org petition created this week by vintage Mac enthusiast Grant Woodward reads.
"I am deeply concerned about the discontinuation of the Belkin F2E9142-WHT ADC to DVI cable. This essential piece of technology has become increasingly rare and difficult to find since it went out of production," the petition reads. "For those unfamiliar with its significance, this cable allows vintage Apple Macintosh computers to connect with more recent monitors, breathing new life into these iconic machines. It is an invaluable tool for restoring, collecting, and preserving these pieces of computing history."
As Woodward notes, the adapter in question allows an older generation of Power Mac G3 and G4 from the early 2000s to connect to newer monitors. If you are curious about the actual specifics of what these connectors are and why they matter (would you believe it involves some obnoxious, proprietary-and-now-discontinued Apple ports?), you should watch this video:
At the time of this writing, the petition has only 21 signatures, but the problem Woodward describes is one that is acknowledged by the broader vintage Mac community, dongle resellers, and rare cable historians the world over. Woodward's petition began after he bought a Power Mac G4 from 2002 and posted about it in the "MacOS—Unsupported Macs (Genuine Macintosh users only—not Hackintosh)" Facebook group, which has more than 7,000 members: "Just got a Mint condition Power Mac G4 800mhz dual cpu machine for £6.50 of eBay and a mint boxed 23 inch Cinema HD Display (A1082) for £20. Both are working BUT I can't find an 'ADC to DVI' adapter to connect the two together. Has anyone got any ideas as to where to get one?," he posted in the group. A commenter noted that "eBay is your best bet, but the adapter is going to cost more than your G4 and Cinema Display put together."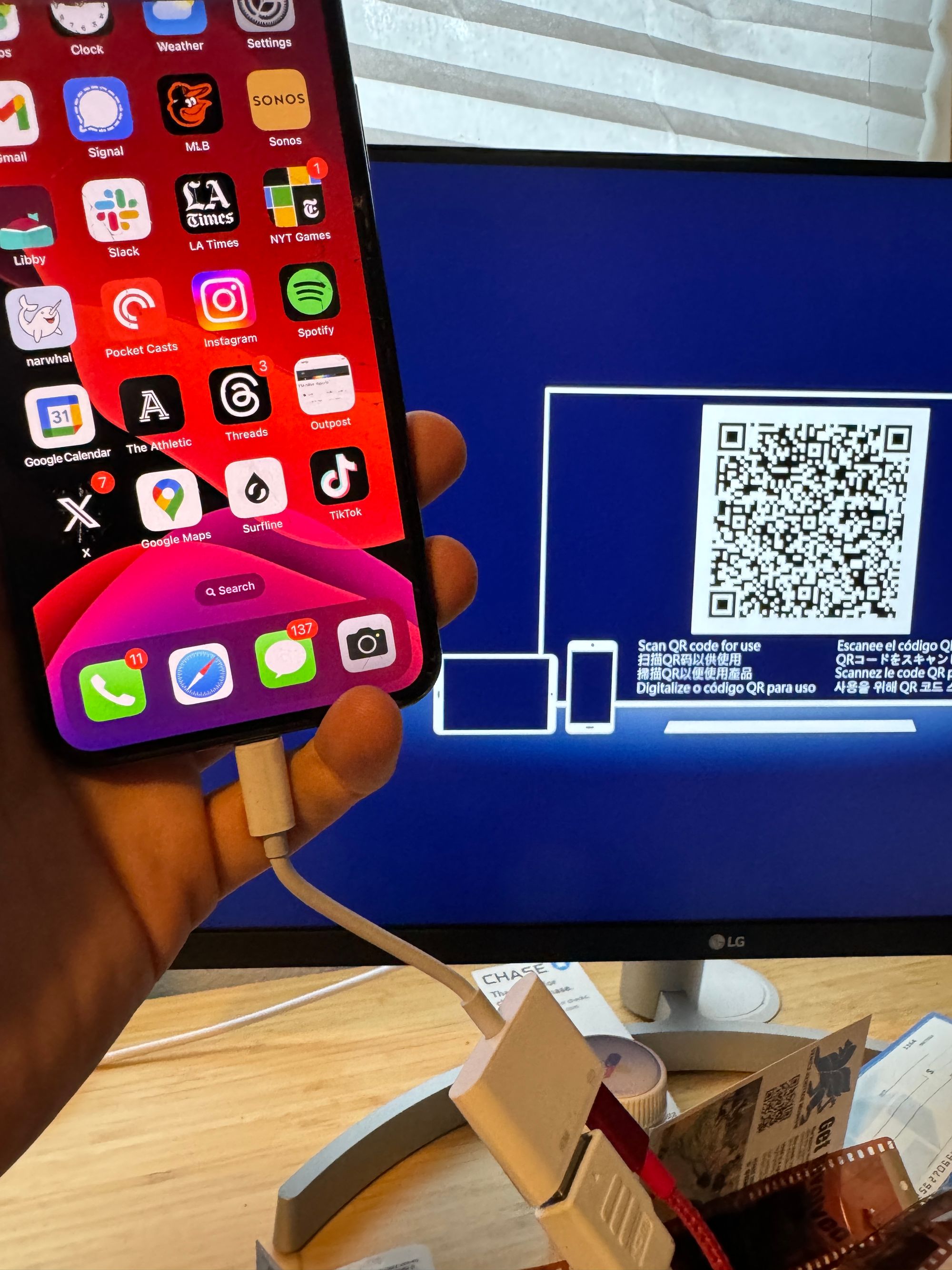 This commenter was correct. The Belkin dongle in question is sold out or otherwise out of stock essentially everywhere. A site called PriceBlaze.com is selling a refurbished dongle for $217.50. An eBay seller says he has three in stock for the low, low price of $249.99 + $25 shipping (the seller declined to comment for this article). Memory4Less.com is selling the cable for $231.38. The dongle is so rare that the collectible site WorthPoint has been tracking its price history on the secondary market. Viewing its price requires a $47 per month subscription so I did not check, but it does have an image of a mint condition, new-in-box dongle which made my mouth water.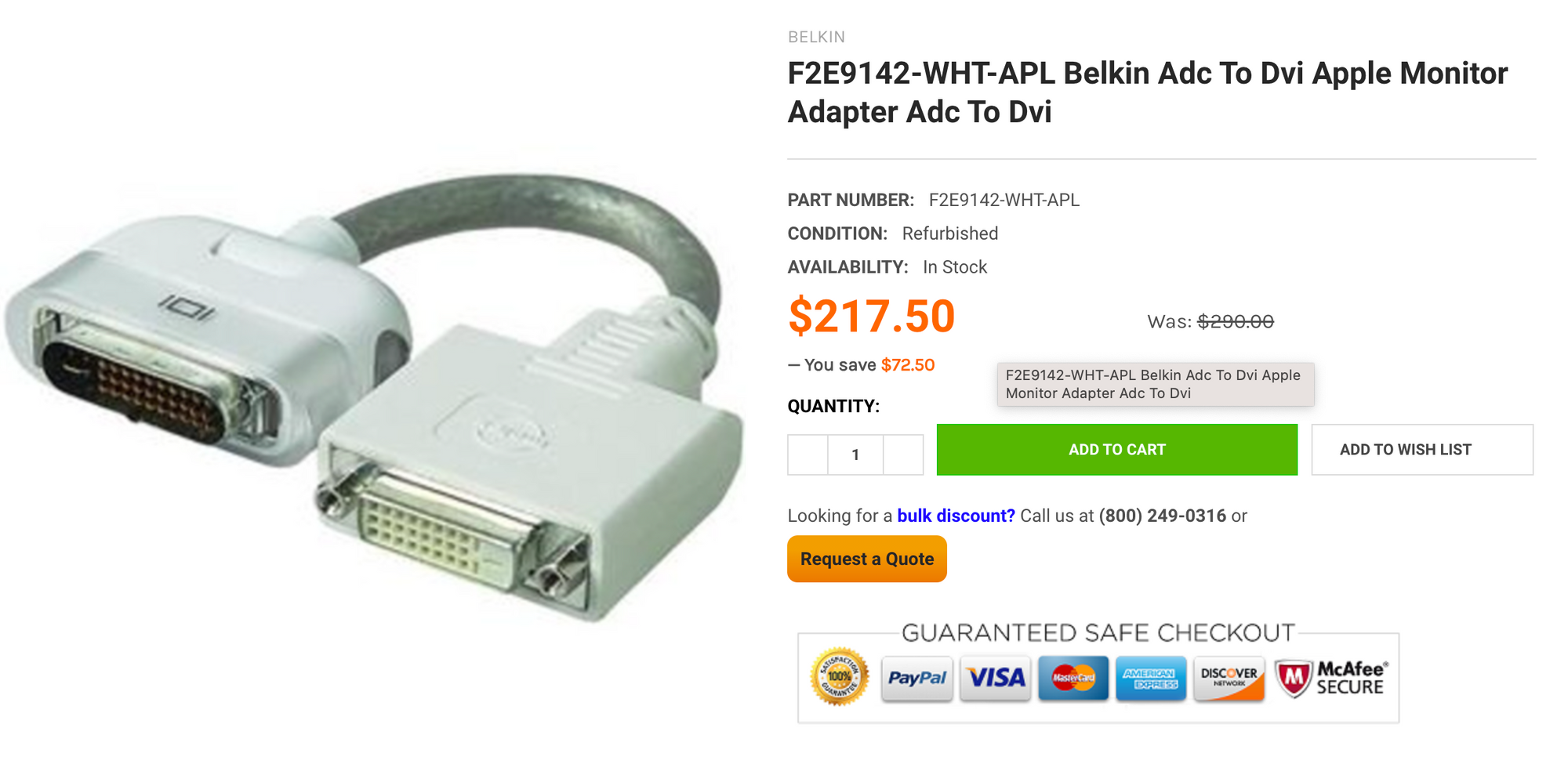 Crucially, an ADC to DVI adapter is not the same thing as a DVI to ADC adapter, which multiple people in the Mac community explained to me and which took me an embarrassing amount of time to wrap my head around (I'm not the only one). DVI to ADC adapters are powered, meaning it comes with a giant power block. The Belkin ADC to DVI dongle is a passive connection and is thus much smaller.
"They solve different problems. Some Apple machines have ADC ports on their video cards that aren't compatible with, like, a PC monitor," Ernie Smith, journalist, dongle historian, author of the Tedium Newsletter, and friend of 404 Media patiently explained to me. "Meanwhile some people have Macs with DVI ports that they want to plug into these very specific monitors that only work with a handful of Apple Machines. If you replaced a Power Mac G4 with a Mac mini, you'd be stuck buying this adapter or replacing your monitor."
Dongle experts I spoke to told me that the world's dwindling vintage dongle supply is a real, actual problem that threatens to make vintage computing much more difficult moving forward. This specific Belkin dongle and the problem it solves is a notorious one. Apple did not initially release a DVI to ADC adapter, which led third-party companies like Dr. Bott to make their own and led to a big press release complete with quotes from Steve Jobs when Apple finally did release its own, gigantic adapter that cost $149.
Anyways, finding the specific Belkin dongle in question has been a problem in the vintage Mac community for quite some time, to the point where technologists have been known to build their own in Altoids tins, while others have hacked DVI cables to create a converter.
"ADC is kind of an infamous connector in Mac history," Smith said. "It does a lot more than standard connectors, but when Apple moved away from it, it really created problems. I have an old Mac G4 Sawtooth and I chose to swap out the video card rather than go through the trouble of finding a compatible monitor."
In a Facebook message, Woodward told me that he understands his petition is "ridiculous" but that it points to a real problem: "There are a lot of people out there who want an ADC to DVI cable but they aren't manufactured any more. The people who are selling them know they are in short supply and so they are offering them at over inflated prices," he said. "I wanted to stir up the subject with a ridiculous petition to urge Belkin (the last manufacturers of this adapter) to remake it again. I know the numbers of people who want this item isn't enough to make it a viable business prospect for Belkin, but it has brought to the light that people do have surplus numbers of the item in their possession without realizing people have been looking without any luck for a long time. Hopefully now these adapters will get to the ones that need them. My petition was never going to work but it has got people talking."
Belkin, which has the capability to end this problem once and for all and to become a hero to tens of people, did not respond to a request for comment from 404 Media.
As always, you should also consider the fact that Apple has made many proprietary connectors in its day, some of which are easier to find than others. There's lots of iPhone Lightning Adapters out there these days, but who knows where we'll be in 30 years.