📄
This article was primarily reported using public records requests. We are making it available to all readers as a public service. FOIA reporting can be expensive, please consider
subscribing to 404 Media
to support this work.
Taylor Swift's management team planned the Eras Tour under the codename "Sparkle," according to internal emails obtained by 404 Media using a public records request.
According to the emails, venues around the United States began planning the rollout of the tour in secret with Swift's team in October of last year, a few weeks before it was announced by Swift on social media November 1.
On October 20, Sara Winter-Banks of Messina Touring Group, which organized the tour, emailed event planners at the Cincinnati Bengals, who operate the 65,515-capacity Paycor Stadium, to coordinate on the rollout of "the big tour date we'll be working on together."
"My team is reaching out to box offices today, regarding our Sparkle date ;)," Winter-Banks wrote in the email. "But a little info on the big tour date we'll be working on together below for your knowledge."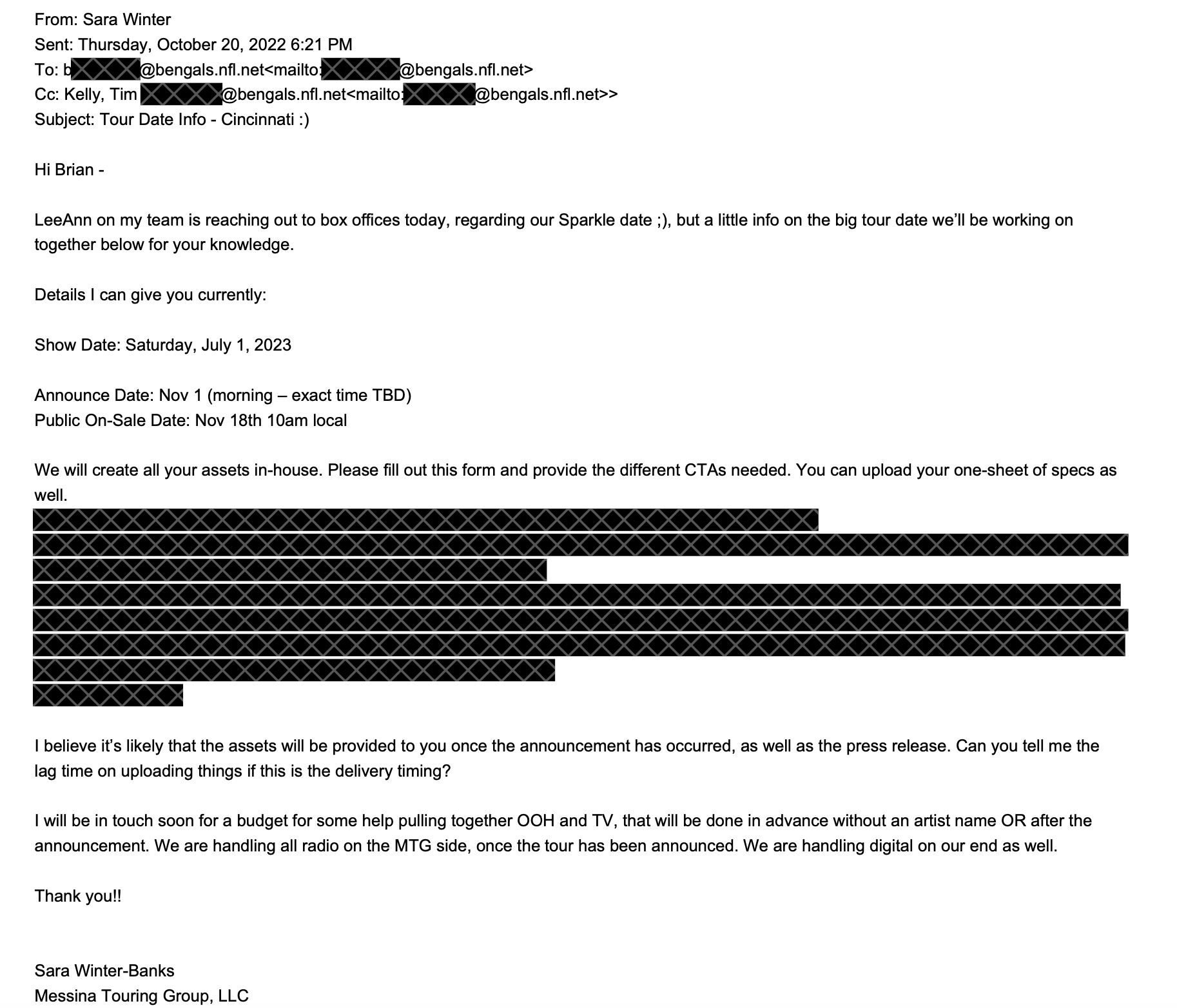 "Sparkle" is presumably a reference to the lyrics of "Bejeweled," where Swift sings "And I miss you, But I miss sparkling."
The email was titled "Tour Date Info - Cincinnati :)" Neither the subject line nor the email itself mention Swift by name, nor does it mention the "Eras Tour."
The emails obtained by 404 Media give a small bit of insight into how one of the highest grossing and most-hyped tours of all time was planned and announced. The email goes on to mention the show date, when the tour would be announced, when tickets would go on sale, and included a link to a form where venue operators could ask Swift's team to make them graphics to advertise the show.
Winter-Banks mentioned that emails before the official announcement would be sent "without an artist name."
Another email from Winter-Banks sent a few days later (but still before the tour was announced) went into more detail about the precautions Swift's team was taking to make sure information about the tour didn't leak before Swift announced it. This email, however, did use Swift's name.
"I will not be able to provide you the artwork or the press release until the tour has been officially announced," she wrote. "I will circle back with exact timing on that, but expecting that to be between 8:30 am - 8:45 am ET. Will confirm when I know. For planning purposes, please be prepared for early in the morning ET on Tuesday, 11/1."
Winter-Banks then explained that prior to the announcement of the tour, "I only have one person authorized to create the graphics" for advertisements. She said that they would be able to make additional advertisements "once Taylor has announced the tour … when we are able to bring more designers into the fold."

The night before the announcement, Winter-Banks sent another email with an update: "Just checking in to let you know as soon as Taylor makes her official announcement on socials then I'll clear you to post and will have the necessary assets and press release. The dates are going live on her site at 8:15 am ET and looks like her actual social pushes may be closer to 8:30 am ET. You'll hear from me bright and early once she's announced :)"
Swift ultimately tweeted her Eras Tour announcement at 8:24 am ET on Nov 1, 2022.
404 Media was able to obtain the emails using a public records request because Winter-Banks's emails were eventually forwarded from an employee of the Bengals to Joe Feldkamp, the director of stadia for the Hamilton County, Ohio city government, which owns Paycor Stadium.
When Feldkamp got the emails (in the middle of the night, a few hours before Swift announced the tour), they became subject to public records requests. The fact that I was able to obtain these emails only because they were eventually forwarded to a public official is the exception that proves the rule about records relating to publicly-owned stadiums in the United States.
Though the vast majority of stadiums that Swift played in are publicly owned, agreements between local governments and the football teams who often operate the stadiums make it exceedingly difficult and often impossible to get records about the administration of facilities that taxpayers pay for.
The information I ultimately got may be groundbreaking only to Swifties, but the records I was actually seeking largely remain exempt from public disclosure and, therefore, public scrutiny. I was seeking information about ticket allocations for presales, which would have shown how many tickets were actually made available to the public during Swift's various onsales, which turned into a legendary Ticketmaster disaster that ultimately led to Congressional hearings. If publicly-owned venues like Paycor were actually run by public entities rather than NFL teams, this information would be easier to obtain, and there have been a limited number of times that this sort of data has become public.
In 2009, for example, documents leaked that showed 11,720 of the 13,330 tickets for Taylor Swift's show in Nashville's Bridgestone Arena were sold during presales. This means that during the "public sale," only a fraction of all tickets were actually for sale. Ticketmaster ultimately canceled the Eras Tour public sales because so many had been sold in presales.
When 404 Media filed the public records request, another email showed that two officials with Hamilton County emailed each other: "Wow and here I was thinking I avoided all the Taylor Swift madness."