An artificial intelligence company, whose founder Forbes included in a 30 Under 30 list recently, promises to use machine learning to convert clients' 2D illustrations into 3D models. In reality the company, called Kaedim, uses human artists for "quality control." According to two sources with knowledge of the process interviewed by 404 Media, at one point, Kaedim often used human artists to make the models. One of the sources said workers at one point produced the 3D design wholecloth themselves without the help of machine learning at all.
The news pulls back the curtain on a hyped startup and is an example of how AI companies can sometimes overstate the capabilities of their technology. Like other AI startups, Kaedim wants to use AI to do tedious labor that is currently being done by humans. In this case, 3D modeling, a time consuming job that video game companies are already outsourcing to studios in countries like China.
"Our software automatically models the geometry from scratch," Kaedim founder and CEO Konstantina Psoma told Forbes last year. "Now anyone can integrate the automatic 2D to 3D conversion into their apps, games, and metaverses." In an earlier, 2020 interview on LinkedIn, Psoma said the company is "automating the boring parts" of 3D modeling.
"Magically generate custom 3D models in minutes," Kaedim's website reads. Update: After the publication of this article, Kaedim rebranded its website to make it clearer that humans are involved in the company's production of 3D images. You can read an article specifically on that change here.
What Kaedim's artificial intelligence produced was of such low quality that at one point in time "it would just be an unrecognizable blob or something instead of a tree for example," one source familiar with its process said. 404 Media granted multiple sources in this article anonymity to avoid retaliation.
Subscribe
Join the newsletter to get the latest updates.
Kaedim markets itself as being for solo developers, indie games teams, or studio games teams. A "Starter" plan that includes 10 models per month costs $150/month. An "Indie" plan that includes 20 "generation credits" costs $300 per month. Studio plans, "great for teams generating a lot of models in a short time frame," starts at $1,000 per month.
In a Hacker News post last year, Psoma highlights the labor-intensive nature of 3D modeling as the impetus for starting the company. "The idea for Kaedim was born from a personal frustration when, 2 years ago, I was working on a project for re-creating a cathedral in 3D software for my university degree. Before being hands-on, the concept seemed straightforward to me, 'the same way you draw on a piece of paper, you can also draw in 3D, how hard can it be?,'" she wrote. "The reality shocked me. Having completely underestimated the task I found myself needing hours to model each 3D object (chairs, tables, walls) using really complicated and steep learning curve 3D software." Psoma added "there is a very limited supply of people who are good 3D artists, and the cost of training one is very big."
Behind the scenes, Kaedim had humans busily creating those 3D models at some point in its recent history, according to two sources.
One of the sources said that Kaedim hired 3D artists from around the world for "24/7 coverage." Another said that artists were paid per model completed, "so the goal was to complete as many as you possibly could in order to get a higher payout." That payout was around $1 to $4 per model, they added. They also received a small bonus for accepting the job quickly, they said. Psoma denied this and said all Kaedim team members are on monthly salaries, but did not respond when asked if Kaedim ever paid those sorts of $1 to $4 per model wages in the past.
💡
Do you know about any other AI companies that use human labor? I would love to hear from you. Using a non-work device, you can message me securely on Signal at +44 20 8133 5190. Otherwise, send me an email at joseph@404media.co.
404 Media found LinkedIn profiles for Kaedim workers in Argentina, England, Indonesia, Ethiopia, India, Greece, the Czech Republic, Colombia, and Spain. These people listed their position as "Quality Assurance" or "Quality Control."
The role that human artists played in Kaedim's process became a topic of conversation in the 3D art and AI worlds last summer when the 3D art community noticed a Kaedim job listing looking for artists. A job listing for a "Freelance 3D Artist, Kaedim," was looking for applicants who are "able to produce low quality 3D assets from 2D images 15 minutes after they are requested. Willing to be paid on a per-asset basis." The job listing said that as part of the interview process, candidates "will be called to demonstrate your ability to generate low quality 3D assets quickly."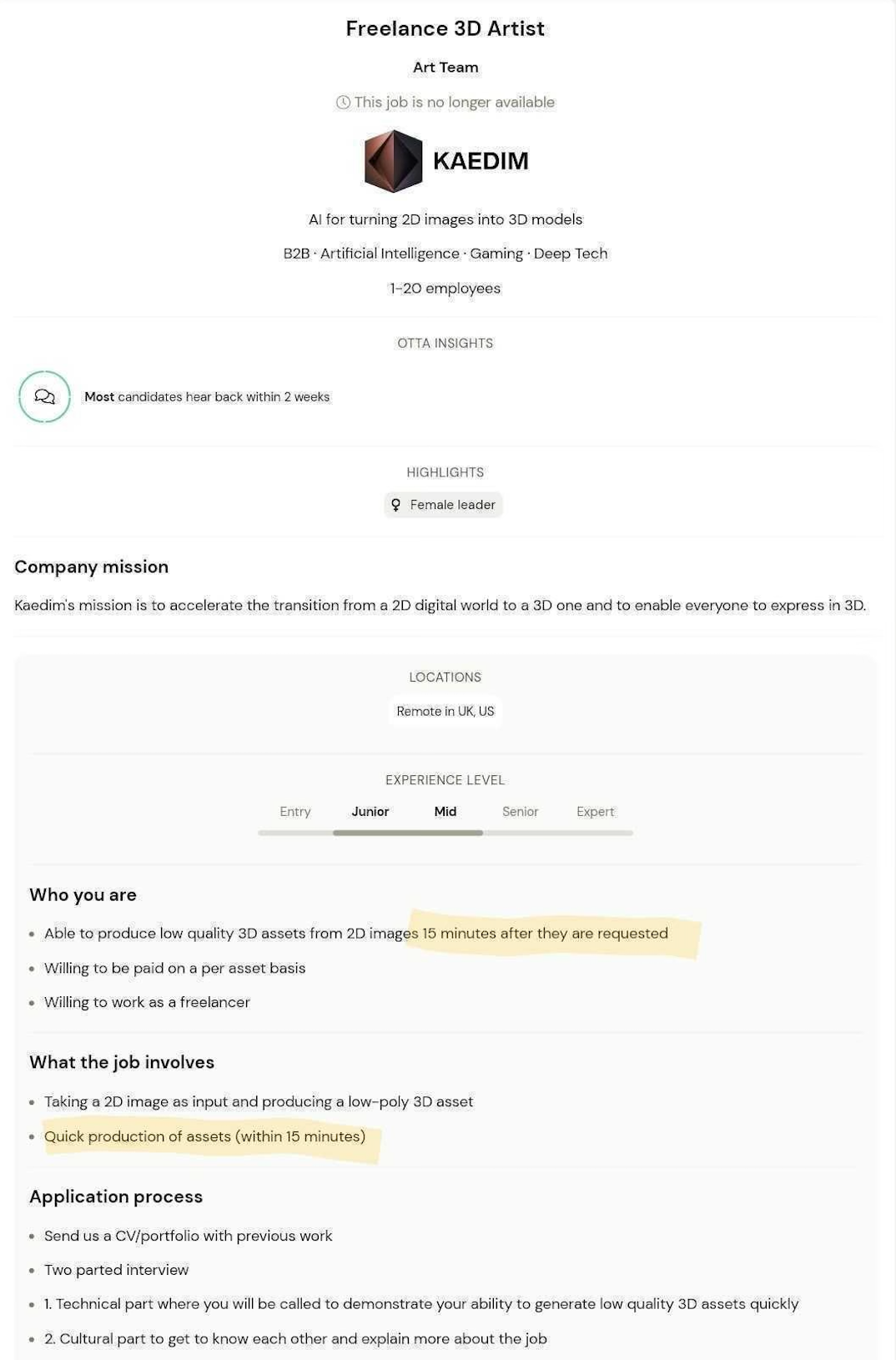 Psoma eventually addressed the practice in a Medium post, where she said that "quality control engineers" fixed low-quality models, and that the human outputs were being used to better train the company's algorithms.
"A quality control engineer will take a look at the output, and improve where necessary in order for the output to match our quality standards," Psoma wrote in the Medium post responding to "skepticism" about how the product works. "Yes, our algorithm is not always perfect, and we want to ensure the output quality up to a standard."
When contacted for comment about multiple sources saying Kaedim used humans to produce the 3D images, Psoma pointed 404 Media to the previous Medium post, and added in an email that "Our 3D team members are really important to us as they work hand in hand with our machine learning engineers to give feedback on our technology and make sure all generations fit our quality standards. They make sure our assets don't contain any technical faults (triangles, n-gons), they inspect the level of detail-capture of our algorithms and they help with improvements where necessary."
One of 404 Media's sources pushed back against Psoma's framing. They did not agree with the characterization of their work as quality control. Instead, they said what workers performed "felt more like outright production instead of 'quality control.'"
"Surely to quality control you actually need something to judge the quality of," they said, before adding that some workers only saw the initial 2D image a client had submitted and not an output generated by the AI.
We don't know how good Kaedim's generative algorithms are currently, and how close it is to actually achieving outputs that humans don't have to fix. Psoma declined to provide any examples of what Kaedim's AI was capable of. "At the moment, we keep our raw AI outputs confidential as they showcase sensitive IP information about our ML approach," she wrote to 404 Media.
After 404 Media contacted Psoma for comment, the company started to update its documentation regarding how the system works to add that it has an "in-house team of artists to refine the outputs and improve future AI-generated models."
"A Kaedim artists [sic] takes a look at your model, and makes any necessary edits for it to be production-ready." The updated page adds that "the above process is fast, but it still takes some in-house work."
"So for the time being, we're primarily targeting enterprise customers that have a significant need for Kaedim's large-scale production capabilities. We're improving our system every day, though, and aim for a fully autonomous release during 2024. With a fully autonomous generation system, we'll be able to provide plans that better target the prosumer use case," the update continued.
Psoma told 404 Media that since last year's Medium post, the company has "halved" the time it takes to generate 3D models.