📄
This article was primarily reported using public records requests. We are making it available to all readers as a public service. FOIA reporting can be expensive, please consider
subscribing to 404 Media
to support this work. Or send us a one time donation via
our tip jar here
.
The federal government is unaware of how many incidents there have been between Cruise autonomous vehicles and pedestrians in San Francisco in part because it does not have a good way to collect public complaints of unsafe autonomous vehicle driving, internal emails obtained by 404 Media show.
Last month, California ordered Cruise driverless cars to stop operating in the state after a Cruise vehicle dragged and injured a pedestrian in San Francisco (Cruise later recalled all of its vehicles). In the aftermath of that incident, the National Highway Traffic Safety Administration launched a "preliminary investigation" into the company's cars and, specifically, four incidents in which Cruise cars either hit pedestrians or almost hit pedestrians.
These include the infamous dragging incident (the woman was initially hit by another car with a human driver, then was hit and dragged by the Cruise vehicle), another incident in which a pedestrian was struck, as well as videos of two incidents posted on Reddit. In one of those videos, a Cruise vehicle accelerates into a crosswalk while two children and two women are slowly crossing: "Cruise in front of me yesterday illegally went through a Stop sign and nearly ran over two moms and their kids," which is particularly notable considering that The Intercept reported that Cruise vehicles struggled to detect children.
The NHTSA's initial report says: "Currently, the total number of relevant pedestrian incidents is unknown."
Internal emails obtained by 404 Media from San Francisco mayor London Breed's office show that one of the main reasons for this is that NHTSA does not have a mechanism for people to easily report unsafe driving by autonomous vehicles. The news highlights the fact that America's vehicle safety institutions have not thought through all of the potential ramifications of allowing autonomous vehicles on American roads.
Currently, to report a "Safety Problem" to the NHTSA, pedestrians need the VIN number of the car, which is impossible for a pedestrian to get. In the weeks following the dragging incident, NHTSA employees met with San Francisco government employees to discuss this specific reporting problem.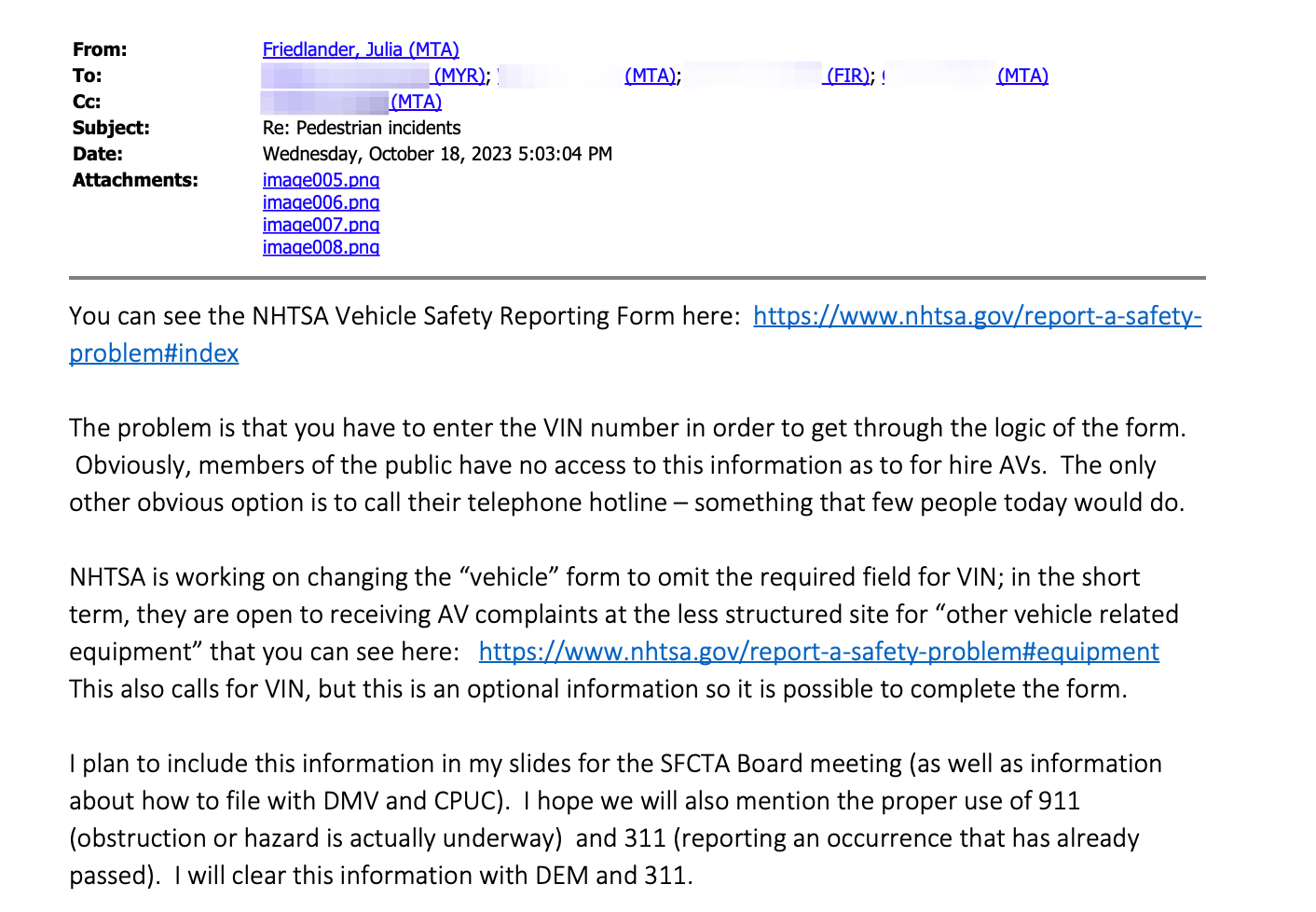 "The problem is that you have to enter the VIN number in order to get through the logic of the form," Julia Friedlander, senior manager of automated driving policy at San Francisco's Municipal Transportation Agency, told her colleagues in an email titled "Pedestrian Incidents" obtained by 404 Media. "Obviously, members of the public have no access to this information as to for-hire AVs. The only other obvious option is to call their telephone hotline—something few people today would do." VIN numbers are unique to each car and are generally printed inside the door frame of any given car.
"NHTSA is working on changing the 'vehicle' form to omit the required field for VIN; in the short term, they are open to receiving AV complaints at the less structured site for 'other vehicle related equipment,'" she added. "This also calls for VIN, but this is an optional information [sic] so it is possible to complete the form."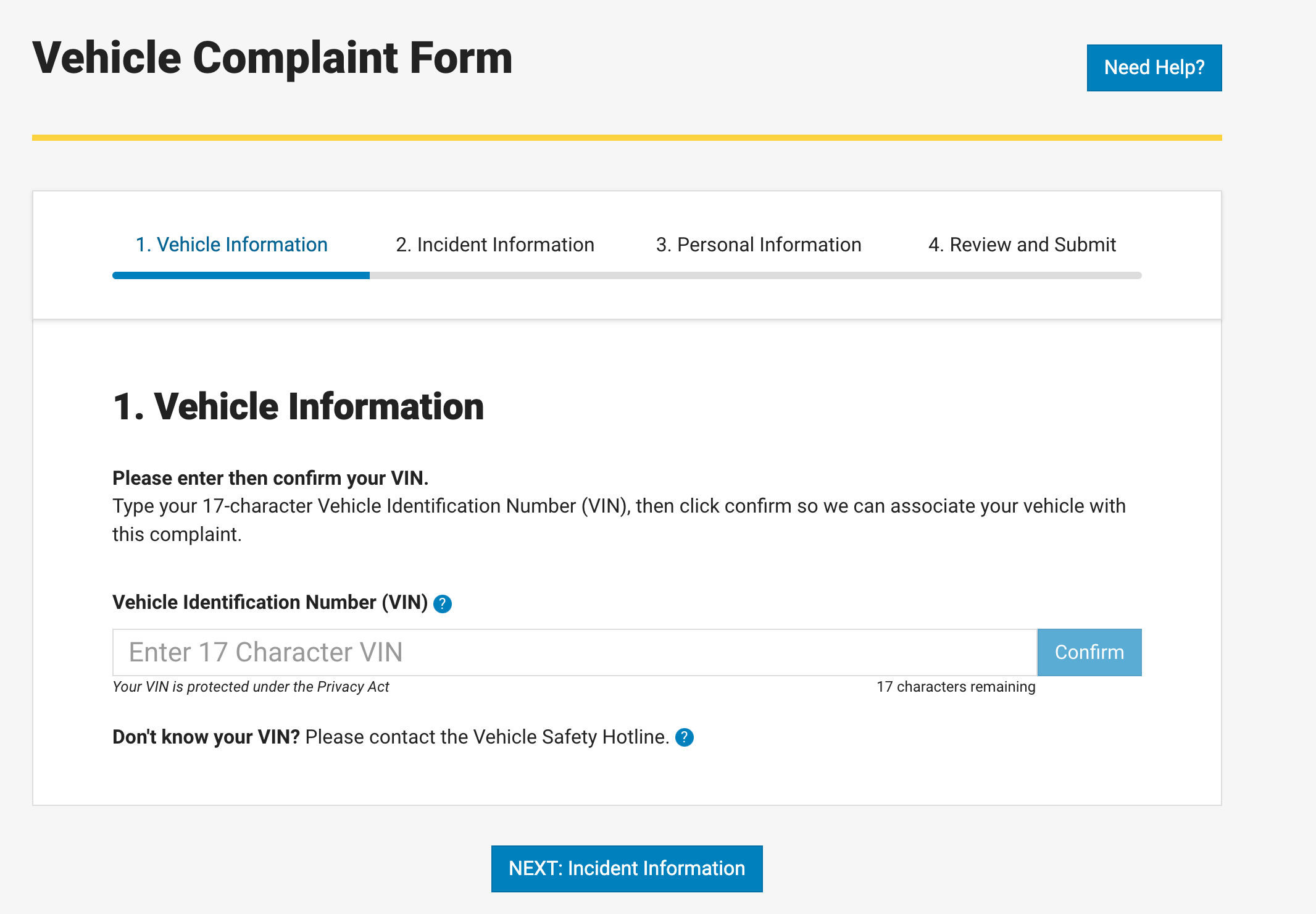 There is no reason to currently think that anyone would use the "other vehicle related equipment" form to tell the government that a driverless car almost ran them over. This form is described by NHTSA as being for "things like aftermarket equipment and vehicle-related products such as bike racks, windshield wipers, motorcycle helmets, wheels, brake fluids, floor mats, and vehicle charging stations or cords. If your complaint involves a vehicle or original vehicle equipment, car seat, or tire, please go back one step and select the form specific to those items."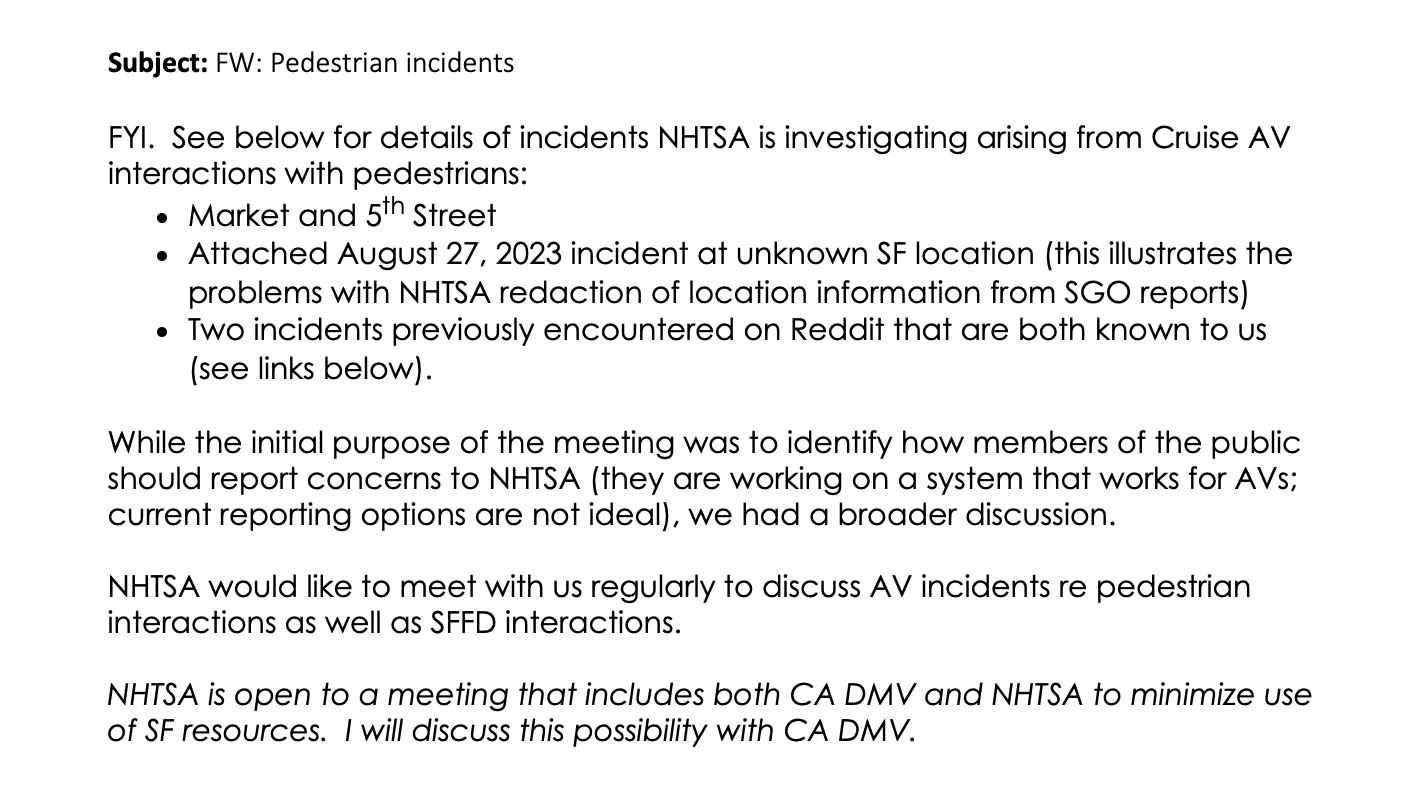 Friedlander said in a separate email that there is an information sharing problem between NHTSA and local governments; at the time of the meeting, San Francisco was not aware of the specifics of the other pedestrian-striking incident because the information released by NHTSA was redacted. The full details of that incident have still not been made public, but the redacted report notes that the person needed medical attention.
"While the initial purpose of the meeting was to identify how members of the public should report concerns to NHTSA (they are working on a system that works for AVS; current reporting options are not ideal), we had a broader discussion," Friedlander wrote. "NHTSA would like to meet with us regularly to discuss AV incidents re pedestrian interactions as well as SFFD [San Francisco Fire Department] interactions."
NHTSA did not immediately respond to a request for comment. The agency's safety reporting page still requires a VIN number to submit an incident.
A separate public records request 404 Media filed with the San Francisco Police Department was rejected because the police department said they were exempt from release. The agency cited an "open investigation." An SFPD spokesperson declined to say on the phone whether the investigation was a criminal investigation and whether Cruise itself was the subject of the investigation.
"The investigation is a totality of the circumstances," the spokesperson said, adding that they did not know whether it was a criminal investigation or not. "That's really all I can disclose at this point."
A Cruise spokesperson told 404 Media that "We aren't going to be providing any information on the incident and defer to police on what they are willing to release since it is an active investigation."