📄
This article was primarily reported using public records requests. We are making it available to all readers as a public service. FOIA reporting can be expensive, please consider
subscribing to 404 Media
to support this work.
404 Media has obtained a redacted incident report from a tragic event in which a Boston Police officer hurtled down a playground slide and careened off the end, injuring his head and arm in the process while his fellow officers laughed.
The incident report, which redacts the victim's name and age, notes that the police officer "was assigned to work a special event at City Hall Plaza when he struck his head and right arm."
The report does not explain what the officer was doing at the time, nor does it use the word "slide," though it does note the "OFFENSE LOCATION" as a "Park/Playground." The report also claims a "suspect" whose first and last name are "UNKNOWN, UNKNOWN." It is unclear whether this refers to the slide itself, to an unknown fugitive, or is merely a required field on the report. The Boston Police Department did not respond to a request for comment.
"The officer was brought back to District A1, and EMS [Emergency Medical Service] was requested," the incident report's narrative states. "The Duty Supervisor, Sgt. Downey was notified. Boston EMS ambulance 3A08 responded to District A1 and transported the Officer to Tufts medical center for treatment. The Officer was treated by Dr. Pham and returned to duty."
Video of the alarming incident went extremely viral late last month. It has been viewed more than 44 million times, spawned countless memes, and copycats wishing to cheat death at the playground. The City of Boston temporarily barricaded the slide at night following the incident and a city spokesperson told the Boston Globe that it was engaging in "regular security enforcement to discourage adults from using the slide."
Notably, the Boston Police Department claimed, in response to 404 Media's public records request, that it "does not have any Body camera footage, images, audio recordings, or any other recordings or media of this incident."

In the original video, a second cell phone can be seen recording the officer's descent down the slide. It is unclear whether the person recording was also a police officer, but from this angle it looks like it could possibly be; 404 Media has filed an appeal with the department to see if this footage is available.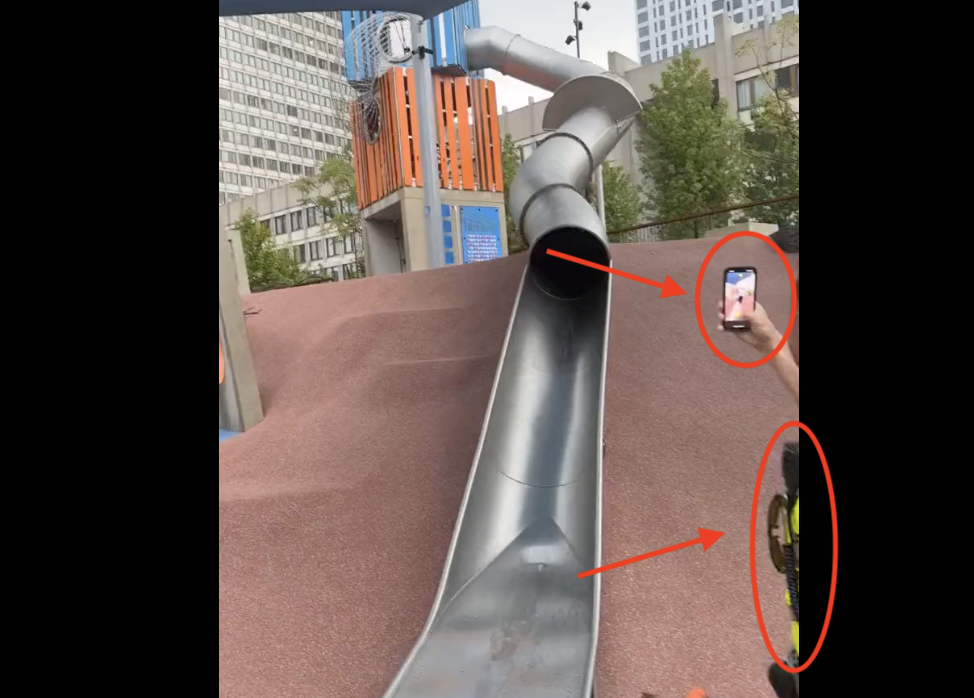 Boston police officers are not required to have their body cameras running at all times, and are instructed to "activate the body worn camera only in conjunction with official law enforcement duties, where such use is appropriate to the proper performance of duties, and where the recordings are consistent with this policy and the law." The Boston Police Union has previously fought against requirements to wear body-worn cameras, and Massachusetts as a whole has low usage rates of police body cameras and dash cameras.
The incident report goes on to note that there was no "suspected drug use" or "suspected alcohol consumption," and that the incident was not a "suspected hate crime."