📄
This article was primarily reported using public records requests. We are making it available to all readers as a public service. FOIA reporting can be expensive, please consider
subscribing to 404 Media
to support this work.
Days before the school year started, the Florida Department of Education told school districts that teaching parts of the Advanced Placement Psychology curriculum that cover sexual orientation and gender identity could be illegal under the state's "Don't Say Gay" law. Public records obtained by 404 Media show the chaos that ensued behind the scenes as superintendents, teachers, and families scrambled to figure out what to do.
Lex Carswell, the superintendent of Florida's Columbia County, told his colleagues after an emergency call that "the overall message is this is 'clear as mud!'"

The documents obtained by 404 Media include emails and letters exchanged between school administration and state leadership as they tried to figure out how to comply with Florida governor Ron DeSantis's law, in which teachers can face jail time if they teach topics about gender identity and sexuality.
The College Board publicly stated earlier this month that Florida had "effectively banned AP Psychology in the state by instructing Florida superintendents that teaching foundational content on sexual orientation and gender identity is illegal under state law. The state has said districts are free to teach AP Psychology only if it excludes any mention of these essential topics."

The Advanced Placement curriculum is designed for high schoolers wanting to take college-level classes. Students who score well on an end-of-year exam can often get college credit or test out of college-level classes. Section 6.7 of the AP Psych curriculum is about "Gender and Sexual Orientation," with a goal of teaching students to "describe how sex and gender influence socialization and other aspects of development."
Florida has since clarified that AP Psychology can be "taught consistent" with state laws, but the emails and records I reviewed show superintendents, teachers, and principals are still concerned and confused, and some school districts had already dropped the class from the upcoming semester.
The Florida Association of District School Superintendents (FADSS), a lobbying organization that represents superintendents in the state, had at least three emergency meetings for "Superintendents Only" in the days leading up to the semester, according to the documents. On August 3, immediately after one of these meetings, Carswell, who leads the Columbia County School District northwest of Gainesville, summarized what was discussed in an email to other superintendents: "I want to pass on to you what we discussed. The overall message is this is 'clear as mud"!," they wrote. "Most of us have less than one week before students report and AP Psych is firmly embedded in our student's [sic] schedules. DOE mentioned early in their talk that we may want to look at an alternative to AP Psych such as IB and Cambridge. For many of us that is not an option."
Carswell said that the plan was to "teach the course, but not violate the law and teach 6.7 … this is far from over and we believe that this is ultimately a debate between the State of Florida and the College Board. We are simply caught in the middle."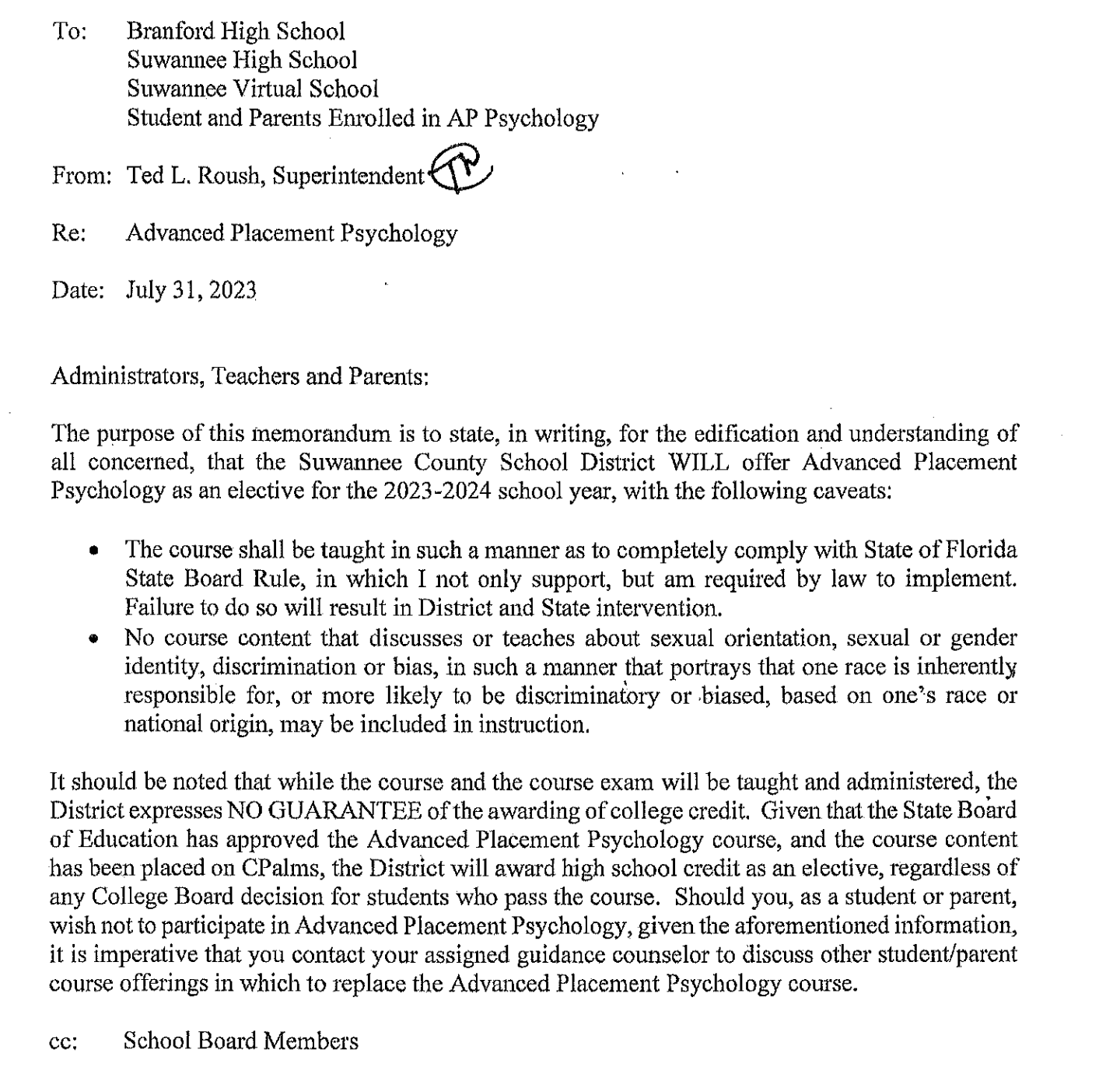 Ted Roush, the superintendent of Suwannee County School District, told other superintendents that "the issues around AP Psych continue to be muddy and problematic, and as you would expect will continue to evolve in coming weeks/months." Roush later sent an email to a confused principal, saying"I support doing it or not doing it [teaching AP Psych] … your call. We will not run away from the College Board if they try to withhold credit."
David Sikes, associate executive officer of FADSS (which is a private organization and thus not subject to public records requests), forwarded a letter to superintendents that Roush sent to school administrators, teachers, and parents: "The course shall be taught in such a manner as to completely comply with State of Florida State Board Rule, in which I not only support, but am required by law to implement. Failure to do so will result in District and State intervention."
"It should be noted that while the course and the course exam will be taught and administered, the District expresses NO GUARANTEE of the awarding of college credit," the district wrote.
Florida Commissioner of Education Manny Diaz, Jr. eventually emailed all superintendents and told them that "the Department of Education is not discouraging districts from teaching AP Psychology. In fact, the Department believes that AP Psychology can be taught in its entirety in a manner that is age and developmentally appropriate."
Notes from an August 7 meeting I obtained from Sarasota County note that Cambridge International, which also offers a college-level psychology course, offered to waive a $3,600 initiation fee for schools who wanted to switch from AP Psychology to Cambridge's psych course: "Also, we will be waiving the first year's annual fee of nearly 11K per school," an excerpt from an email included in the meeting notes reads. This means that schools were considering switching to an entirely new course and curriculum one week before the semester started.
The records I received show chaos and confusion with Florida's constant meddling with the curricula, and the fear educators feel in being potentially held criminally liable for teaching topics related to sexuality, gender identity, and race. Florida previously rejected the AP African American Studies class. The state claimed it is "filled with Critical Race Theory and other obvious violations of Florida law."