On the Discord server for Mage Space, a popular platform for creating AI-generated images, is a list of channels where members share adult content. There are channels for furries, hardcore and softcore porn, and anime.
At the bottom of the list is a channel named "other-nsfw" which includes a few distinct erotic genres that don't fit neatly into any of the others. Gore is the biggest: images of nude women flayed open on operating tables, entrails wrapped around their necks, covered in viscera while choking on giant disembodied penises. Gynoids are heavily represented: chromed-out, feminized robots, similarly seen sucking or taking dicks. There's the disgusting: women smeared with feces, distorted faces and bodies, growing tangled roots or metal spikes from their faces. Less common but maybe most interesting is the abstract: looping GIFs of an alien vulva with a lapping tongue, or a pubic mound with eyes, for example. The overwhelming majority shows sexualized, nude feminine bodies in mind-bending horror scenarios.
Some of the images in this article may be disturbing. Discretion advised.
The images people create, and the long, meandering prompts they write, are a rich text that could offer a glimpse into where sexuality in the internet age is taking us next, and how we're steering it.
There's no shortage of fetish content on the internet, which might make the above statement sound ridiculous and unbelievable. Online, fetishists find their people and set to work making more of what they like, whether it's elaborate role-playing cosplays of themselves as sexy airplanes, blueberries, or slime monsters. Sometimes it pushes the bounds of the sane and legal: crush, fart, and scat porn all thrive online, and snuff films have been popular since before the internet existed.
But with the rise in popularity of generative AI, and wildly popular sites like Mage.Space that let users generate anything they set their minds to, the limits are literally our own imaginations. With that power, people are wrangling images out of the AI that are on the edge of what's popular, let alone possible in the porn world.
We are approaching the event horizon of horniness.
"This conversation we're having is literally on the edge of knowledge, nobody's writing about this in academia right now," Thomas Brooks, assistant professor of psychology at New Mexico Highlands University, told me. "Everybody's still kind of caught up in deepfakes. And they haven't quite grappled with generative AI yet."
Unlike deepfakes, which typically only replace one face for another in an original, human-recorded video, generative AI formulates a new image wholesale, based on thousands of real images scraped into datasets such as LAION-5B. But it's also distinct from the Unstable Diffusion models that became popular last year, where people broke Stability AI's open-source text-to-image generation model Stable Diffusion out of its anti-porn parameters to make surreal erotica.
"You, as the individual porn consumer, can now create your own special little fantasy and your own technological, disembodied sexuality"
Much like DALL-E, images on Mage Space are generated within seconds by writing prompts, which describe in words what image the AI should generate. A fairly mundane image on Mage that falls into the other-nsfw category of a human man penetrating a bloody zombie woman with long blonde hair and a crop top is made with a prompt that includes keywords like  "swedish hyper tech biotech ancient dystopia," "holds glass pipe with cocaine in foreground, "((with rotting Corpses in the Livingroom))," and "explicit blood, gore, disgusting, gross, morbid, sick, twisted mind."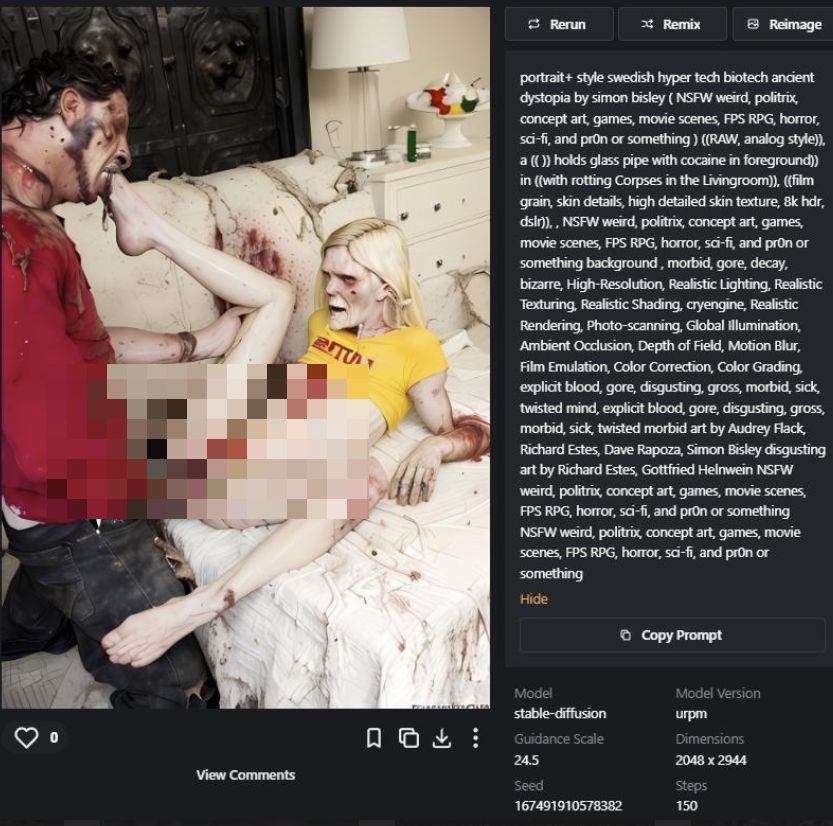 Prompts can be copied from other users if you like what they produced, or users can spend time tweaking every keyword until the desired result is achieved. No two prompts will output the exact same image, even when the wording is identical.
"You, as the individual porn consumer, can now create your own special little fantasy and your own technological, disembodied sexuality," Brooks said. He called this gamified pornography. "There's an internal motivation to solve the puzzle and get the prize. But then there's an external motivation of, 'can I come up with this crazy thing to show my anonymous internet friends.'"
Because all AI-generated content is constrained by the content it's trained on, AI-generated porn, even when it seems alien, still manages to be familiar. It's shocking and disturbing, but because it always remixes existing content, it's the opposite of transgressive.
None of the experts I spoke to had seen this kind of content before, but viewed several examples when I reached out for comment.
"On the surface, the surrealism may not seem erotic, but looking at the prompts used to generate the images, prompts like 'furry,' 'tentacles' and 'decay,' it's clearer that the creator is using well-known fetishistic or paraphilic elements, which are designed to increase arousal," Eric Sprankle, professor of clinical psychology and co-director of sexuality studies at Minnesota State University, Mankato, told me. "Granted, seeing an image of a half-woman/half-sloth getting vaginally, orally, and anally penetrated by large tentacles of unknown origin will likely catch the eye of many, but it will likely only arouse a few."
Even if you've seen tentacle porn before, you might have to take a second look when it's rendered realistically and with elements of horror. "Right off the bat, I felt like I had seen this imagery before and yet hadn't," Laura Helen Marks, porn scholar and author of Alice in Pornoland, told me.
"Because AI is gathering existing data, the imagery is inherently uncanny and I think that disorientating quality is likely a big part of the appeal," Marks said. "Gothic horror relies on that sense of the uncanny for its thrills, and pornography does the same in a lot of ways—dissembling bodies, reduction of civilized people to their gooey, aroused state, pushing the bounds of corporeality—so it makes sense that we would use this technology to push the boundaries even further."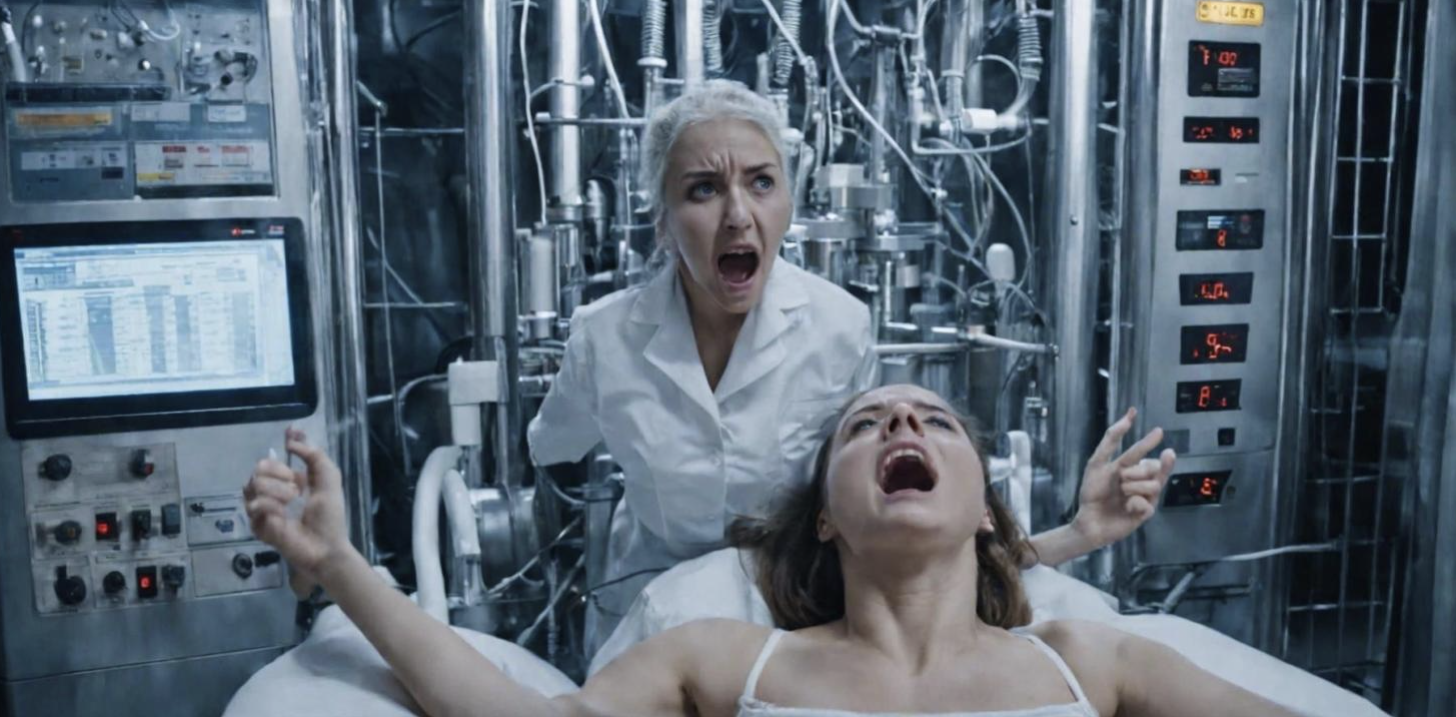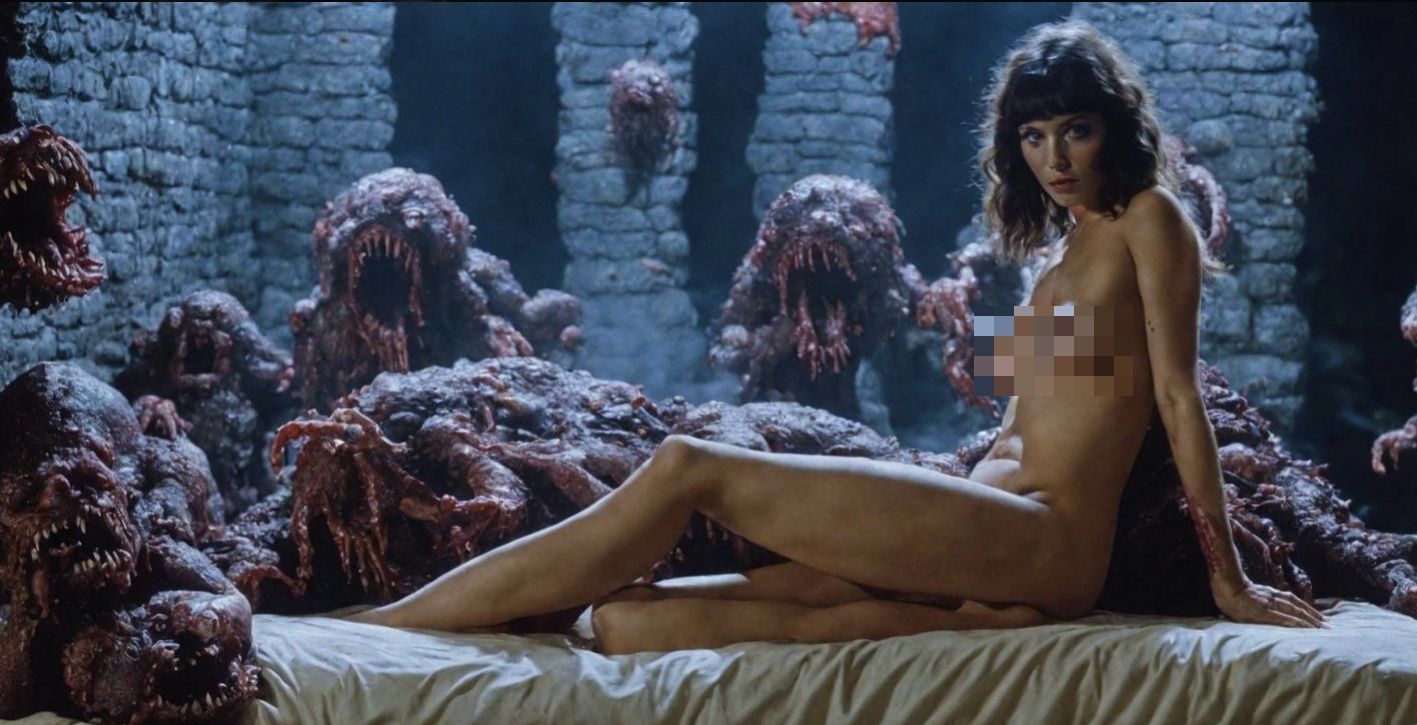 We've seen a demand for adult content push technological boundaries throughout history, with art forms like digital animation, CGI, and 3D rendering. But with AI-generated porn, the makers themselves can be surprised by what comes up, even if they have a 300-word prompt with granular specificity. What's in their mind's eye might only be a shade of what the computer generates on the screen.
The fact that there's no one being physically, literally murdered is, obviously, important as part of the enjoyment for creators and consumers of gruesome AI porn. The uncanniness of the images is also part of what makes them bearable to view: I wouldn't be able to stomach casually scrolling through miles of real photographs of people self-immolating until their limbs are gone or being skewered through the chest and smeared with blood, but because it's not real, it's bearable. Horror movies have the same effect: people who would find snuff films or footage of mass shootings too disturbing might still enjoy Saw.
The unreality of it all—even when it's portraying real people in vulnerable or humiliating situations, and many deepfakes do—isn't just permission to enjoy it, but a central part of consuming it. The creator can still do the violent or degrading thing to the subject, while claiming no one was harmed.
In the adult industry, plenty of bloody and even disturbing porn exists and is made by consenting adults in safe environments. Still, adult filmmaker and founder of Sssh.com Angie Rowntree wondered how a culture that struggles with porn literacy and separating fantasy from reality will handle a new way to make hyper-violent erotic content. People still blame consensually-made and professionally-produced porn and sex workers for all sorts of social ills, and the conservative, anti-porn movement is stronger than ever.
"As an adult filmmaker, I really have to wonder: why are people using AI to take sexuality to such a nihilistic, hateful place?" Rowntree said. "It's hard to claim that it's about 'pushing the envelope' when it's more like literally shredding women to pieces."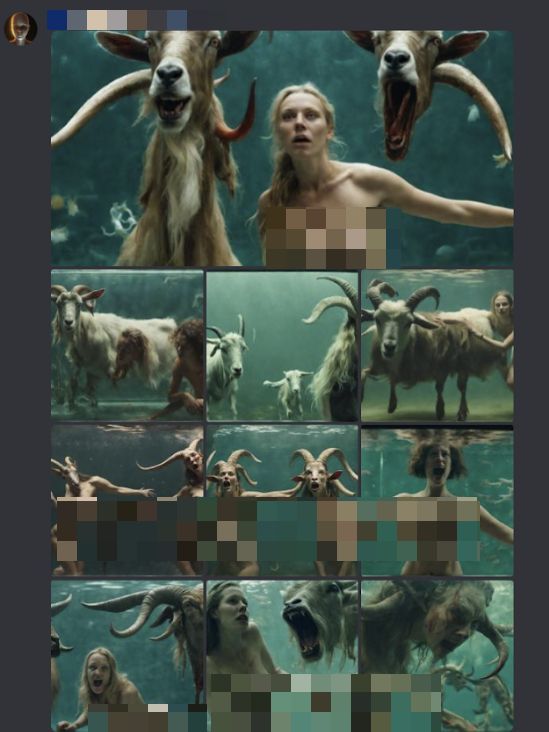 AI-generated erotic imagery isn't representative of real-life sex, but it's not comparable to erotic art drawn by humans, either. It exists in a gray area that's more grotesque, an amalgamation of stolen images taken from places like Reddit, scraped from porn sites, and the endless fetish illustrations and art all over the internet—churned out as a hyperreal simulacra of human (and inhuman) sexuality. What AI porn makers manage to excavate from the tar pit of the internet isn't revealed until the moment it shows up on the screen, even if the prompt is carefully crafted and specific.
Porn, like Hollywood, tends to follow social trends and especially reflects our anxieties. There hasn't been a larger social anxiety in the last three years than the pandemic, and Brooks wondered if the impulse to destroy AI-generated bodies, many of which are places in hospital-like settings, on gurneys or operating tables and in some images literally surrounded by effluvia-covered nurses, might be related to the body horror of living in the 2020s. "There's this idea that the body is not safe and we need to flee the body to actually experience sexuality," he said. "And when they get there, the first thing they do is kill the body."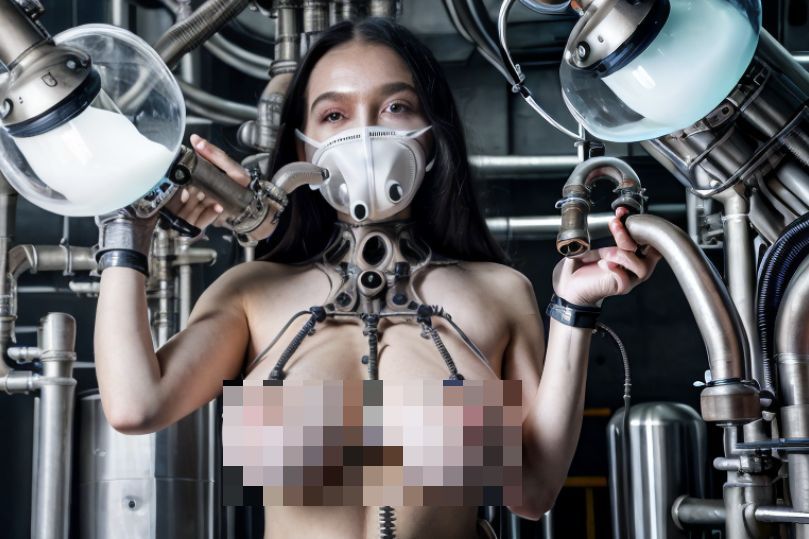 At the same time, our lives became forcibly, aggressively digital. AI chatbot companions are also in the zeitgeist now more than ever before, as people form romantic, parasocial relationships with virtual girlfriends. "I think this is probably just another expression of that, which tracks with the overall idea of transhumanism in our current culture," Brooks said.
People might not explicitly believe they'll one day join the singularity, he said, but there has been a shifting acceptance toward moving our human experiences out of the physical body and into virtual places, like Zoom or Discord.
"We're letting technology become mediators of our different psychosocial expressions," Brooks said.  
It'd be easy to ask, "Is anyone jerking off to this?" and it's admittedly a question I asked the experts I talked to for this piece. Marks suggested the question itself might be the wrong one.
"We assume 'getting off' or finding things exciting takes just one form—masturbating—and while that is likely a common practice, it surely isn't the only response to looking at pornographic media and not the only reason people seek it out," Marks said. "I think if we reduce the viewer's response to masturbation, then when we ask, 'why do people enjoy this?' we are really asking, 'why do people masturbate to this?' This reductive approach obscures the actual pleasures of this media, some of which may overlap with the pleasures of horror media in general, as well as 'shock porn' and other stuff that shares some of the features of AI-generated porn."
💡
Do you know anything else about generative AI? I would love to hear from you. Using a non-work device, you can message me securely on Signal at +1 646 926 1726. Otherwise, send me an email at sam@404media.co.
Arousal and stimulation can be a complex, diverse response, she said—one that can blur the lines between erotic, horrifying, shocking, and disgusting. "For some reason, when sex is introduced to the equation we tend to center it as the entire point, ignoring the other qualities."
I tried asking many of the people who are actively posting in the other-nsfw Mage Discord channel what they find so captivating about their hobby, but most of them didn't respond. Everyone there is anonymous, and many are using usernames that aren't connected to any other internet presence. If their hobby of making graphic horror porn ever broke the containment of this chat—and the kinship of other people making the same stuff—it wouldn't be good for their real-life reputations.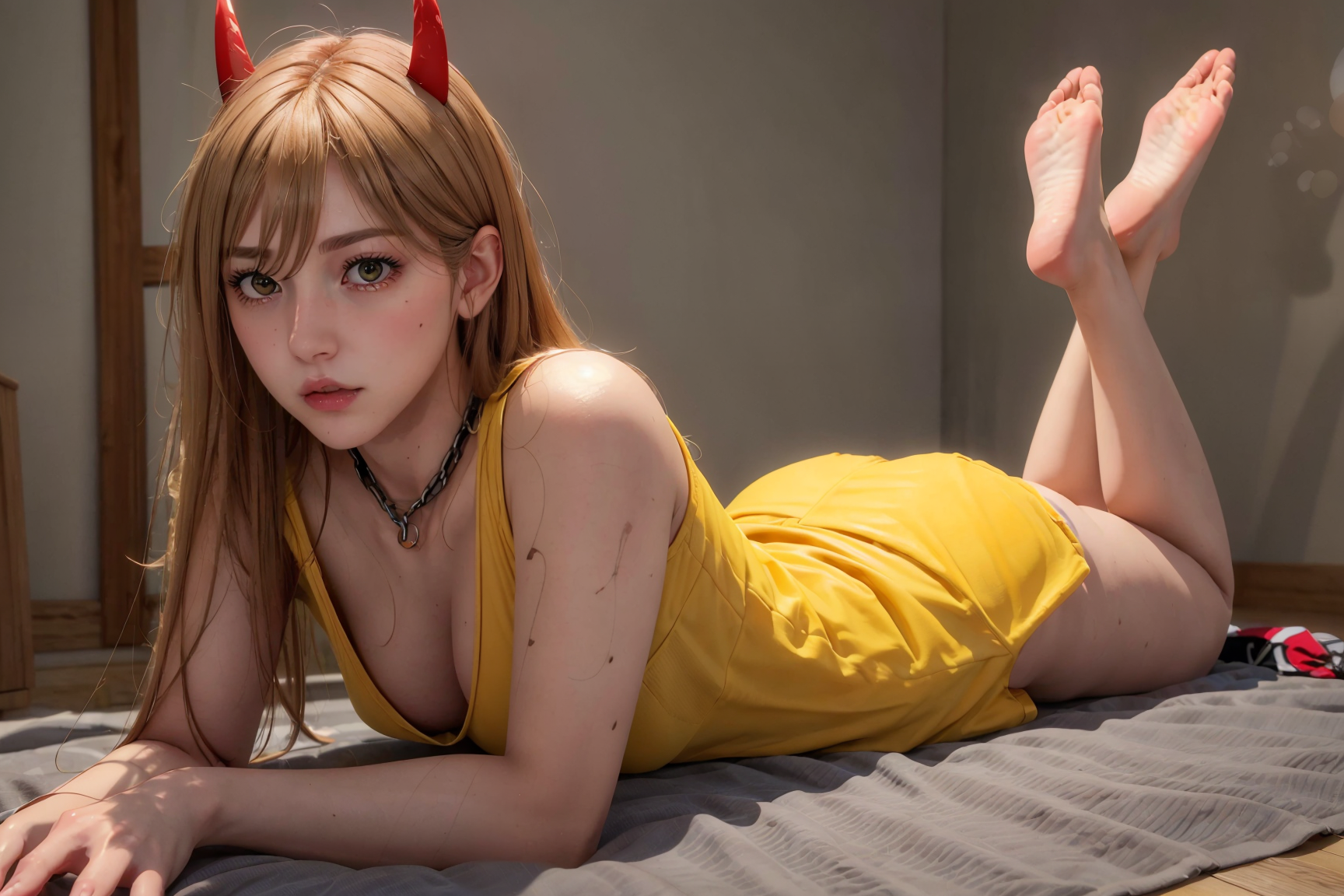 One member of the channel, who goes by Tangelo, did respond with a few short answers to my questions. He said he's been using AI generation models since the days of DeepDream, Google's neural network that launched in 2015 and created images using machine learning that looked like a bad acid trip.
"I have been creating erotica and 'porn' since the late 90s with computers," he said, including 2D art and 3D rendering. "The appeal is to be able to create and manipulate things as you please, just like with painting and drawing." I asked if he's ever shocked by what the Mage Space generator creates. "Surprised yes. Shocked, not usually," he said.
The longer we have been online—and it's been about 33 years, now—the more the power of the internet has shaped our sexuality, and our desires have shaped it back.
Rowntree has seen these kinds of shifts firsthand in the 25 years she's been in the industry, along with her husband Colin, who founded the oldest BDSM site on the web, Wasteland. Around the time tube sites like Pornhub and XVideos became popular, she noticed that Sssh.com members—who mostly came to her site as it was marketed toward romance and a more rosy, beach-read kind of porn—started requesting that she offer more hardcore, rough, and dominating sex scenes.
Easy access to free porn on tube sites, as devastating as the business model was for independent webmasters like herself and Colin, changes people's desires. Rowntree said that she's received an increase in requests for AI themes from Sssh.com members since the technology has been in the news a lot recently.
"However, what our members are requesting relates more to the many sentient AI beings that have been depicted in television and film – like Andrew in Bicentennial Man, the AI character Samantha in Her, or even Data from Star Trek," she said. "For the most part, fans express a desire to explore the potential of human connection with AIs, as much as the AI characters in the above stories have aspired towards being 'more human.'"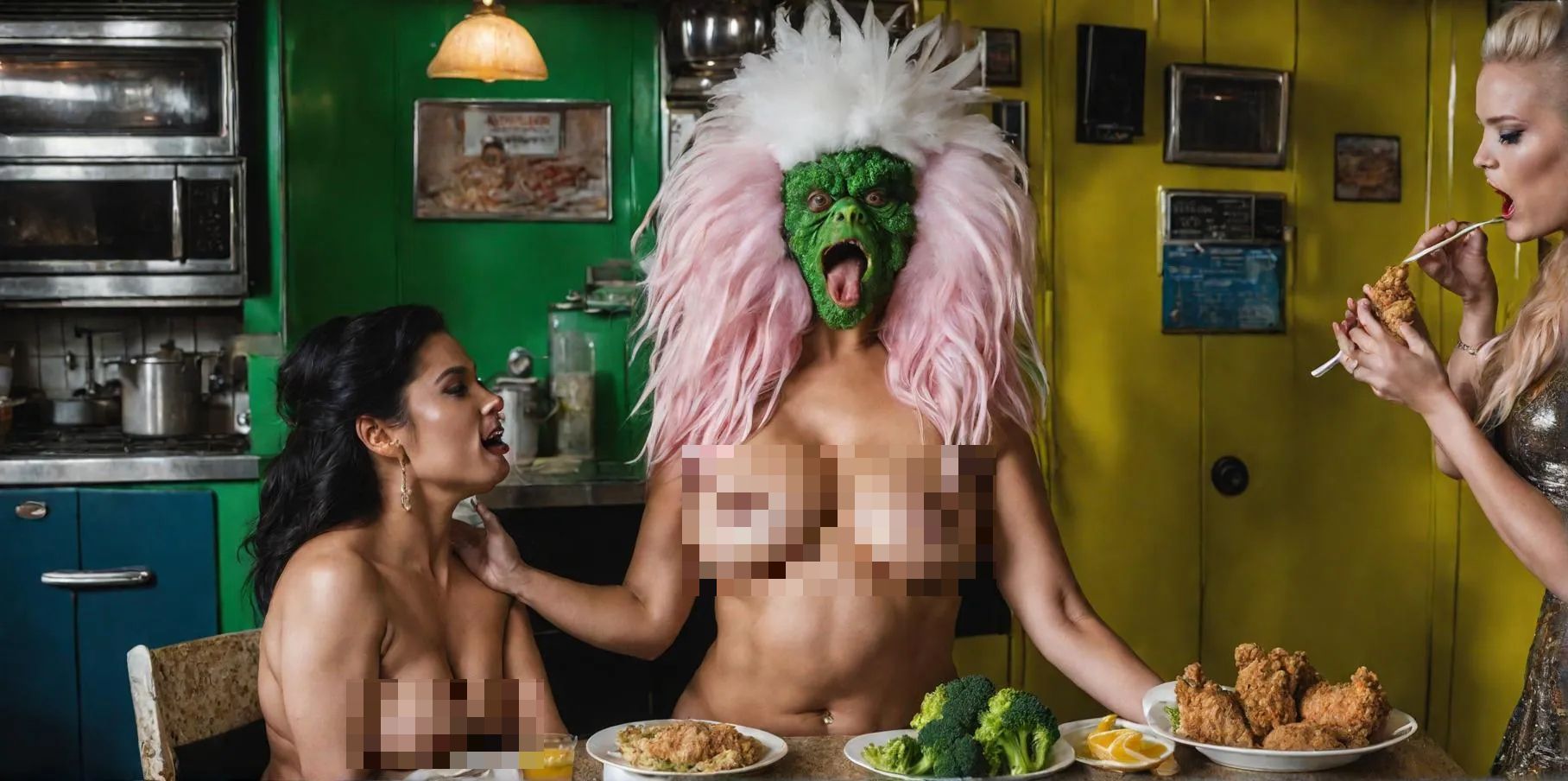 Pornographers also have to abide by things like rules set in place by discriminatory payment processors, lest they be banned from their banks, and have to obey strict terms of use on sites like OnlyFans, where blood of any kind (including menstrual) is not allowed. Even the insinuation of violence or non-consensual consent can get you permanently removed from most adult sites.
Rowntree told me she's concerned that AI could mark a similar shift in how the industry operates. "In the early 2000s, tubes put pay sites through a fresh kind of hell that saw our production budgets and revenue cut in half," Rowntree said. Deepfakes of real performers are a concern, and are already happening on Mage Space, to small-scale and celebrity-level performers alike. An influx of gore generated by AI to adult sites could also cause platforms to tighten their rules even more, and crack down harder on real performers.
"It will not be the wild west forever, and we also do not think that 'fake girls' are going to supplant real adult performers. Nothing will ever beat 'the real thing' for most fans," Rowntree said. "If AI can help performers or filmmakers to monetize their content more effectively or express themselves creatively in new ways, then that is definitely exciting. However, in the meantime, it could really cause harm to the adult industry (even more than what we're already facing) if AI porn creators play fast and loose with content standards and compliance."
Safe, sane, and consensual pornography is the industry standard, no matter what fantasies are at play, she said, "and we need to ask ourselves what happens to the broader industry and beyond if AI porn creators can get away with promoting the very opposite?"
For now—like many online spaces for fetish and kink—people are mostly finding like-minded people to share something that's considered shockingly taboo in the mainstream.
"At most, it may unlock some unknown kinks in an individual where someone may surprisingly realize, 'Oh, ok. I guess I'm into mythical sea creatures,'" Sprankle said. "But for society as a whole, I wouldn't expect to see a large increase in the demand for tentacle dildos.
Emanuel Maiberg contributed reporting.