Subscribe
Join the newsletter to get the latest updates.
TikTok has deleted a video 404 Media posted Wednesday that was about The Guardian deleting a copy of Osama Bin Laden's "Letter to America."
The letterwent moderately viral on the platform and has caused a wider mess for the company on Twitter and elsewhere. TikTok stated that 404 Media's video was "Removed for: 'Violent Extremism.'"
Here is the video that TikTok deleted, which is still up on Instagram Reels, and which had about 120,000 views on TikTok last I checked, about an hour ago:
In a tweet Thursday, TikTok said: "Content promoting this letter clearly violates our rules supporting any form of terrorism. We are proactively and aggressively removing this content and investigating how it got onto our platform. The number of videos on TikTok is small and reports of it trending on our platform are inaccurate. This is not unique to TikTok and has appeared across multiple platforms and the media."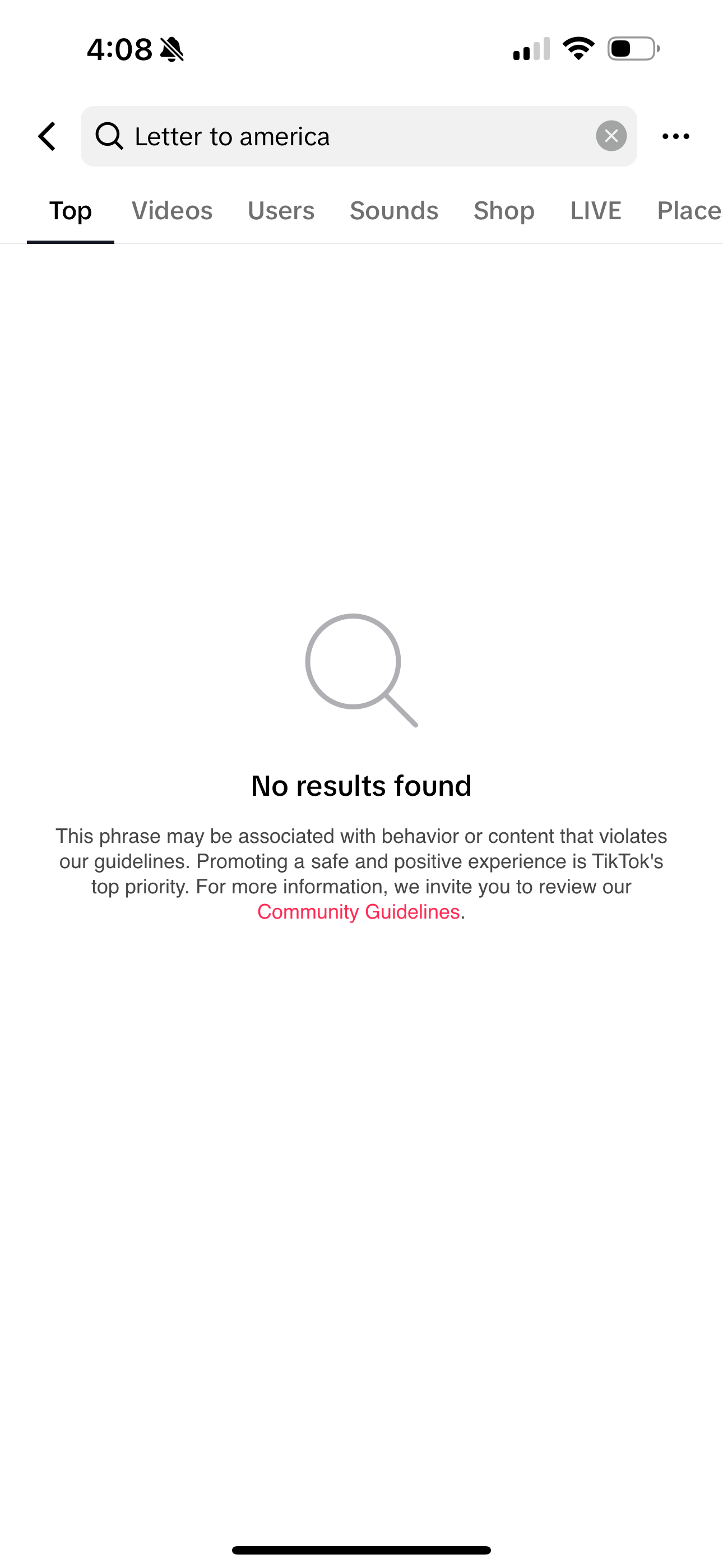 The video 404 Media posted was informative and journalistic in nature. TikTok removing this video and others like it shows that rather than handle what is admittedly a complex situation with any sort of nuance, it is indiscriminately deleting videos in an attempt to avert the public relations shitstorm it is facing. TikTok is not just deleting videos which glorify violent extremism (of which there were several), but also videos that discuss basic facts.
The problem here is that TikTok is moderating reporting and news about extremism in the exact same way that it moderates actual extremism, something that it regularly does. This is to the detriment of its users and its platform.
In doing content moderation in this manner, TikTok is showing that it is not acceptable in certain cases to report news on its platform, or to discuss topics that many people are talking about. Social media platforms have a long history of moderating in a way that is nominally designed to avoid public relations nightmares, but it also has a long history of deleting extreme or illegal content only after the press has written about it.
Searching "Letter to America" on TikTok now shows zero results and states "this phrase may be associated with behavior or content that violates our guidelines."
Here is the full text of the video we uploaded:
"So, The Guardian has deleted a letter written by Osama bin Laden to the American people because it went too viral on TikTok. The letter was originally published in 2002 and has been on The Guardian's website for more than 20 years. Today, The Guardian deleted the letter after a bunch of people on TikTok started talking about the letter and discussing it. 'This page previously continued the full text of Osama bin Laden's letter to the American people,' the deletion notice says. I am a journalist with 404 Media, which is an independent tech publication, and I asked The Guardian why they took it down. A spokesperson told us 'The transcript published on our website 20 years ago has been widely shared today on social media without its original context. Therefore, we have decided to take it down and direct readers to the news article that originally contextualized it instead.' This is the original news article that explained where the letter came from, it was posted on a message board that was known to sort of disseminate al Qaeda propaganda and al Qaeda communications, it was also sent around on a mailing list that was used by people in the Middle East. I have been a journalist for over 10 years, it is highly highly unusual for publications to delete something like this unless there's a massive error. You can learn more about it by checking us out at 404media.co"
404 Media has appealed the violation. TikTok's press line ignored our request for comment yesterday and did not immediately respond to a request for comment about deleting our video.
Update: TikTok restored the video after I emailed a link to this article to its PR team and said it was "removed in error."