An account on Grindr called "GiantCockNYC" is constantly reappearing in users' messages despite being blocked, with the account owner claiming they are an employee for the hookup app who is able to repeatedly remove the blocks.
"Everyday I block this account. Wtf," a Grindr user who goes by the pseudonym ML on Twitter wrote in a message to GiantCockNYC, according to a screenshot of the conversation. ML tweeted a cropped screenshot of the conversation on Tuesday, and shared the full screenshot with 404 Media.
"I work for the app lol I view who blocks and I remove it lmao," GiantCockNYC replied. Tech companies often have problems with malicious insiders, with some using access to stalk love interests, or otherwise inappropriately interact with user data.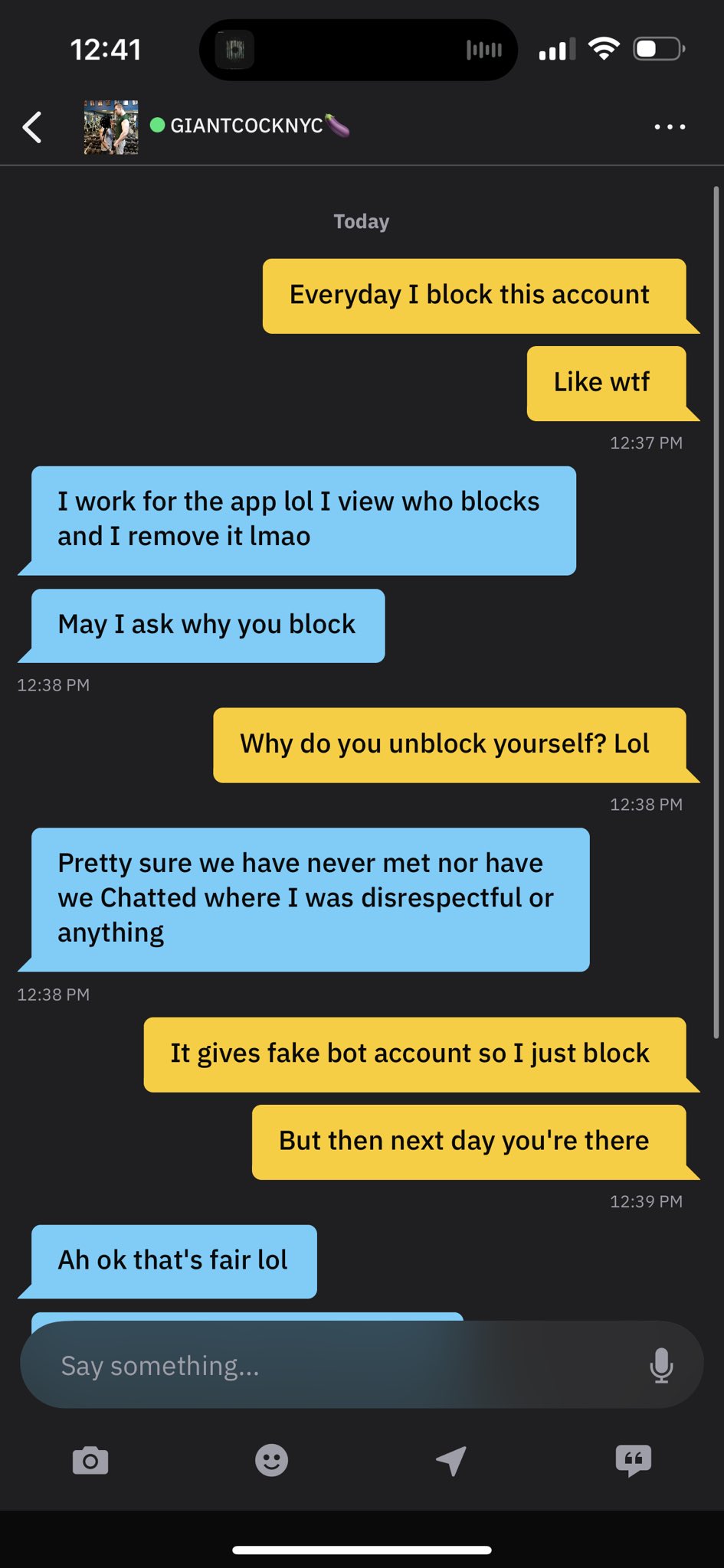 But Grindr itself says that isn't the case here. A spokesperson said in an email that "The person created multiple profiles, deleted, then created another—with the same name/photos to make it appear as though blocks weren't working." In other words, after being blocked, GiantCockNYC deleted their account and then quickly made another with the same username to make it appear they had magically bypassed users' blocks. And the effect, in a way, was similar—they continued to message target accounts, albeit presumably without any prior message history or account activity because it had been deleted. The Grindr spokesperson added "This was not a Grindr employee."
The bizarre behavior from the person behind GiantCockNYC hints at an important moderation issue—the apparent ability for users on Grindr to rapidly delete and create new accounts with the same name, despite them doing this for the explicit and malicious purpose of circumventing users' blocks.
📵
Do you know about any other moderation or security issues with apps? I would love to hear from you. Using a non-work device, you can message me securely on Signal at
+44 20 8133 5190
. Otherwise, send me an email at joseph@404media.co.
ML told 404 Media that after the screenshotted conversation, the GiantCockNYC account "wasn't there for awhile and then later in the afternoon came back."
Gregory, another Grindr user who said they had seen the GiantCockNYC account, told 404 Media: "The profiles disappeared at first, as they normally would when you block someone. Then they reappear maybe a day later or longer…"
"They're very spammy accounts. Unrealistic stats, grainy pics, etc. So my assumption is that these are spam accounts that get recreated when they're banned, not actually someone working for grindr and unblocking," he added.
The Grindr spokesperson said that the company had not only banned the respective account, but also "the device," presumably meaning GiantCockNYC may need to get a new phone if they wish to use Grindr again. The spokesperson did not reply when asked if device-level bans were a capability Grindr uses in ordinary cases, or if GiantCockNYC was an exception.
Grindr's workforce recently unionized, and employees have claimed that the company retaliated by enforcing a return-to-office policy; the union filed an unfair labor practice charge against Grindr, claiming that the company silenced workers following the change in policy.