Amateur UFOlogists, conspiracy theorists, and alien enthusiasts are losing their minds after Mexico quite literally unboxed what it said were some mummified aliens in its Congress Tuesday. During the wide-ranging hearing, a variety of UFOlogists and government officials from around the world testified about UFO sightings and played new UFO footage. But, by far the most surprising segment was when conspiracy theorist YouTuber Jaime Maussan Flota announced that he would be showing two mummified "non-human corpses."
I will attempt to explain what's going on here, but first, let's take a moment to understand that various communities on the internet are losing their minds over these mummies, which is understandable, because it isn't everyday that we have an "alien corpse" unboxing on the floor of the legislature of a major country.
The aliens are currently trending on Twitter, have been talked about by YouTuber Keemstar's Drama Alert, and have instantly become a meme on social media. The UFOs subreddit has called the hearing "historic," and is widely alleging a U.S. media blackout on the topic (although many dozens of outlets have already written about it.)
What Presenters Told Mexico's Congress About the "Non-Human Corpses"
Maussan inferred that he would be revealing something that the United States was scared to, after former U.S. intelligence official David Grusch claimed to U.S. Congress that the American government is in possession of extraterrestrial bodies: "So far, the Pentagon has not agreed to release this information and allow lawmakers to see these biological remains. Here today, we are going to present two beings that were recovered in Peru in a diatom mine. They are mummies found between the cities of Palpa and Nazca in 2017, which have been deeply studied by researchers, journalists, and scientists, who are going to tell us today about some of their extraordinary conclusions." Nazca, of course, is the site of the incredibly famous Nazca lines, which has been the subject of much mystery and intrigue over the course of hundreds of years.
Subscribe
Join the newsletter to get the latest updates.
The camera then focuses on two giant wooden boxes, and two men proceed to pull their lids off to reveal what can only be described as two B-movie-type props of small, Hollywood-looking aliens resting on white pillows. Maussan said that the mummies were pulled not from aerial crafts but from mines, and that he believes they are "around a thousand years old."
Jois Mantilla, a journalist with an outlet called Otherworld Communications, then claimed "at least 20 of their bodies were found almost intact near the Nazca lines." Mantilla then talks through a slide deck presentation that starts with a slide called "CUERPOS NO HUMANOS" ("non-human bodies").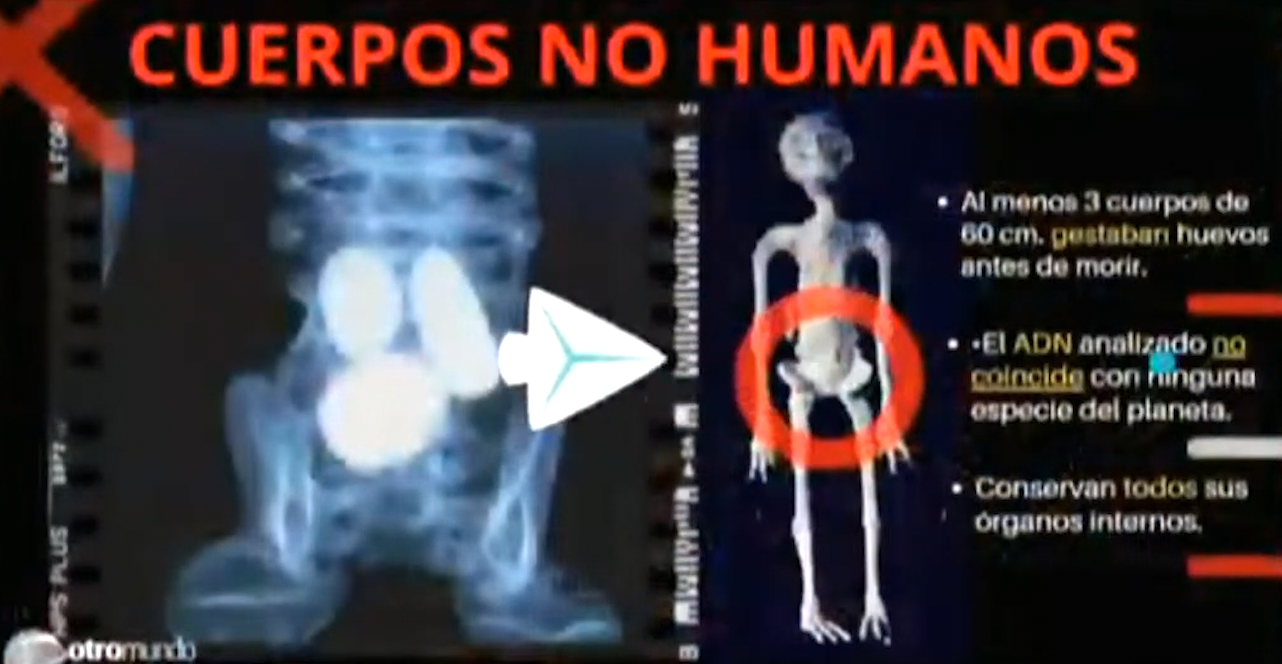 Mantilla then says that he has had x-rays, digital tomography, carbon-14 dating, genetic analysis, and a handful of other analyses done on the mummies. Maussan adds later that they have spent more than $50,000 doing DNA testing and "if the DNA is showing us that they are not human beings and that there is nothing in the world that looks like this, we must accept it. They are non-human beings. We don't want to call them aliens because we don't know, but these are beings that were obviously intelligent, that lived with our ancestors."
Jose Sanchez, the former Director of the Mexican Navy's Forensic Medical Service then takes the stand and says "I can affirm that these bodies have no relation to human beings" and proceeds to explain how its bones, muscles, and ligaments are put together. He noted that they have three fingers that could be used "in a wrapping manner to hold things."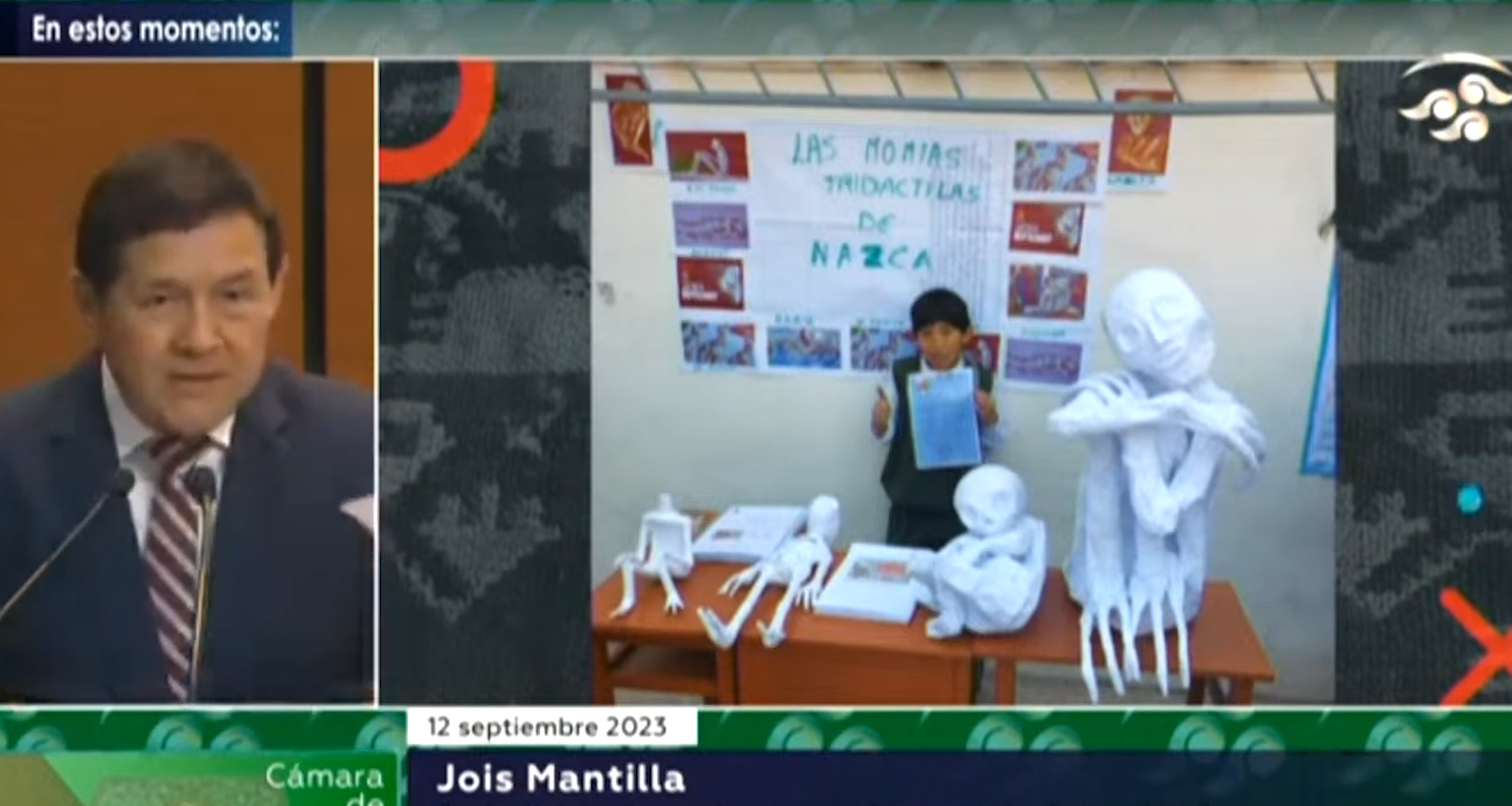 "I will point out that DNA analysis has been compared with more than 1 million registered species, and we found that there is a significant difference between what is known and these bodies," he added. "The results showed that 70 percent of the genetic material does not match what is known."
Who is Jaime Maussan and What's Going On Here?
Maussan is a Mexican journalist and UFOlogist who has nearly 1 million subscribers to his "MaussanTV" YouTube, which he calls "the number 1 channel in the world in investigating the UFO phenomenon, science, technology, and the investigation of space and climate change."
I regret to inform you that this is not the first time Maussan has rolled out "humanoid" mummies from Nazca, and it's not even the first time he's done so in front of a country's legislature. In 2017, Maussan and Gaia, a streaming service that offers "consciousness-expanding videos," published a video called "Special Report: Unearthing Nazca." In that video, Maussan and Gaia show an alien-looking mummy that appears to be larger than the ones he showed Tuesday in Mexico. That kicked off a recurring frenzy in the UFOlogy world. In 2018, Maussan gave a very similar presentation to the one he gave Tuesday to the Peruvian Congress during a four-hour hearing called "Mummies of Nazca." In a History Channel series called "The Mummies of Nazca," Maussan showed what appear to be the same mummies he showed Tuesday, and a 2019 documentary called Alien Mummies of Peru also followed many of these same mummies.
This is all to say that Maussan and his mummies are a pretty known entity in the world of UFOlogy. In 2018, Live Science published a debunking in which several scientists suggested that the mummies appeared to be made up of manipulated human bones, a finding that was also published by the YouTube channel Scientists Against Myths. In 2017, the Atlantic did a deep dive about why "Peruvian archaeologists are tired of debunking claims of extraterrestrial influence on human history" and how "pre-Columbian bodies are once again being used as evidence for extraterrestrial life." Stanford scientist Garry Nolan, who has spent much of the last few years analyzing supposed "alien alloys," meanwhile, expressed skepticism on Twitter about Maussan's findings while noting "I'd be happy for the researchers to be right."
Prior to the hearing, the National Autonomous University of Mexico and Mexico's Institute of Astronomy issued a joint statement in which they said that despite all the UFO sightings and studies done by interdisciplinary groups of scientists, "to this day there has been no observational or experimental report that has offered evidence of life beyond Earth, or of visits from civilizations from other planets." The groups added "the search for extraterrestrial life is a problem of huge importance in science," and added that many scientific organizations around the world are working on the search for extraterrestrial life. "To quote Carl Sagan: 'extraordinary claims require extraordinary evidence.'"
Mantilla said during his testimony that, when the pair originally presented evidence of the aliens in 2017, "some archaeologists and other professionals who call themselves part of the scientific community denounced it as a fraud … but do you know how many analyses and studies the scientists did on these bodies before deciding this? Zero. Nothing. They didn't even come see them. They have been at the University of Ica [in Peru] for four years and they haven't even come to see them."
"They have been doing their studies by looking at what they see on their cell phones or on their computers, peacefully sitting in their homes, in their offices," he added.
The fact that these mummies have been previously debunked means little to the UFOlogy community, which at the moment is still in a posting frenzy about the Mexican hearing. To be fair to them, it is notable that governments are increasingly holding hearings like this, and these sorts of hearings like this and the recent US Congressional hearing with Grusch give outlandish claims an aura of credibility.