This piece is published with support from The Capitol Forum.
Somewhere in the bowels of a Labcorp drug testing facility in Madison, Wisconsin, which one worker described to me as "the bunker," is a severed human finger encased in wax. The finger, which workers presume was once attached to a former Labcorp worker at that location, was kept in the office of a "post-life" department supervisor who showed it to many new employees as part of their safety orientation.
Two workers in this part of the lab said that the finger was trotted out as a kind of warning. Workers in the "post life" department process dead animals Labcorp tests drugs on by slicing them into thin sections, a technique known as microtomy. The workers said that, to meet productivity goals, they had to perform precise work at a fast pace, slicing off sections of dead dogs, rats, and monkeys preserved in pungent formalin, embedding them in wax, and then slicing them into micrometer-thin sheets that are mounted to slides that can be examined under a microscope. Workers who exceeded their goals were considered for promotions, while workers who didn't meet them were chided by managers.
But workers also had to be careful as they operated heavy machines that oriented the encased tissue samples by millimeters for accurate slicing and as they changed the machines' blades frequently ("every 20 minutes," one employee said), which was necessary to keep cutting precisely.
"There's a fixed blade in place, very sharp blades, that definitely accidentally cut a few people," one Labcorp employee said. "Nobody lost a finger while I was there but it definitely happened before. One of the department supervisors actually had somebody's finger just in his office mounted in the wax. Kind of just to illustrate what can happen, but I don't know why he wanted to keep that as a souvenir necessarily. He loves showing it to people."
Three sources who worked at the Madison lab, formerly a Covance lab acquired by Labcorp in 2014, said that the company's obsession with productivity resulted in them rushing and making mistakes.
One former Labcorp employee who left the company to do a very similar job elsewhere said that at their current, non-Labcorp lab they process four to six mice in about four hours. At Labcorp, they said, it was normal for a single worker to process 10 mice in three hours.
"It's just a complete change of pace, more of an emphasis on collecting the tissue as perfectly as we can rather than as fast as we can," they said of their current employer. "Because when you prioritize speed and numbers over everything you make a lot more mistakes."
"You're supposed to be a scientist doing research that's going to determine whether or not certain pharmaceuticals will make it to market," another source at the Madison lab said. "But the way it's set up is that you're only going to get ahead if you cut corners […] to me, it doesn't feel like it's really researching anything, it feels more like you're just a sample monkey."
Labcorp's CEO and chairman Adam Schechter described the company as "the world's largest laboratory service provider." It provides routine diagnostic tests that most people get as part of their healthcare, as well as workplace drug testing and drug development. Recently, Labcorp has become the biggest clinical laboratory company in the United States in terms of employees and market cap following a series of acquisitions, and Quest Diagnostic is its closest competitor.
Overall, 404 Media talked to 10 current and former Labcorp employees from across the country, most of whom work on patient testing either by drawing blood, working at blood banks, or analyzing blood, urine, and other samples to diagnose various medical conditions. 404 Media granted all of them anonymity because they feared retaliation from Labcorp. Despite working at different locations and performing different roles, all of them described a corporate culture that relentlessly prioritized productivity in a way they fear could come at the expense of patients.
"We aren't getting rest, we aren't stopping, we aren't really eating, we're not drinking water."
Labcorp did not respond to multiple requests for comment over email, phone, and Linkedin.
"It was kind of like an Amazon warehouse," one Labcorp worker said. "I like that kind of environment where you're trying your best to work as fast as possible in the most efficient way. It's like a puzzle. But it was literally impossible to do the amount of work they expected you to do, and I've worked in high volume places."
💉
Are you aware of testing mistakes at Labcorp? Are you a courier for Labcorp? Using a non-work device, you can message me securely on Signal at (609) 678-3204‬. Otherwise, send me an email at emanuel@404media.co.
All Labcorp workers I talked to said the challenges they faced are not unique to lab technicians at Labcorp. Many said that the other clinical laboratory giant, Quest Diagnostics, has similar problems. Clinical labs, like other parts of the healthcare industry, have been understaffed for years, and pay isn't high enough to replenish their ranks. Many workers have been pushed to their limits by the pandemic. But they all said that Labcorp, which is increasingly consolidating lab work across the country by acquiring smaller labs and labs from financially struggling hospitals, is making those problems worse. Multiple sources said that Labcorp's reputation in the field is so bad that sometimes lab techs quit as soon as they learn their lab is acquired by Labcorp. I've also seen emails from Labcorp management addressing staffing shortages, overtime, and employee burnout.
Quest Diagnostics did not respond to requests for comment.
Multiple sources said that part of the reason these poor working conditions persist is that lab workers are out of the public's sight and mind, and their importance is not well understood—lab workers serve a vital function in the diagnosis process and the healthcare system at large. Consequently, chronic overwork among lab workers can lead to errors, and, potentially, bad outcomes for patients.
"When people talk about the healthcare system being under stress, there's not enough doctors and there's not enough nurses, I just want to be like, you guys don't even know, it's just the tip of the iceberg," a Labcorp employee told me. "You're watching it all crumble but it's really crumbling underneath. When it collapses, it's not going to be just because there's not enough doctors and nurses. You'll be in the hospital and you might have a nurse and you might have a doctor, but there's nobody in the lab sending up the blood and telling them what to do."
According to Labcorp's website, the company worked on over 80 percent of new drugs approved by the U.S. Food and Drug Administration in 2022, many of which passed through labs like the one in Madison. But if you've heard the company's name before it's probably because you saw it on the header of your blood test, COVID-19 test, urinalysis, employment drug test, or any number of other routine and diagnostic tests that thousands of people get every day as part of their health care. In 2022, Labcorp performed more than 600 million tests for patients around the world, according to the company. With $14.9 billion in annual revenue, 60,000 employees globally, and 2,000 "patient access points" across the U.S., it is one of the biggest clinical labs in the world.
Some of these labs, like the one in the company's headquarters in Burlington, North Carolina, process samples that are flown in from across the country, while other labs are part of specific hospitals or hospital systems, but are operated by Labcorp.
For example, in October 2022, Labcorp announced it had established a "comprehensive laboratory relationship with Ascension," one of the largest private healthcare systems in the country, which operates 139 hospitals. As part of the companies' "strategic collaboration," Labcorp purchased select assets of Ascension's lab business, and now manages hospital-based labs in Alabama, Florida, Kansas, Maryland, Michigan, New York, Oklahoma, Tennessee, Texas, and Wisconsin.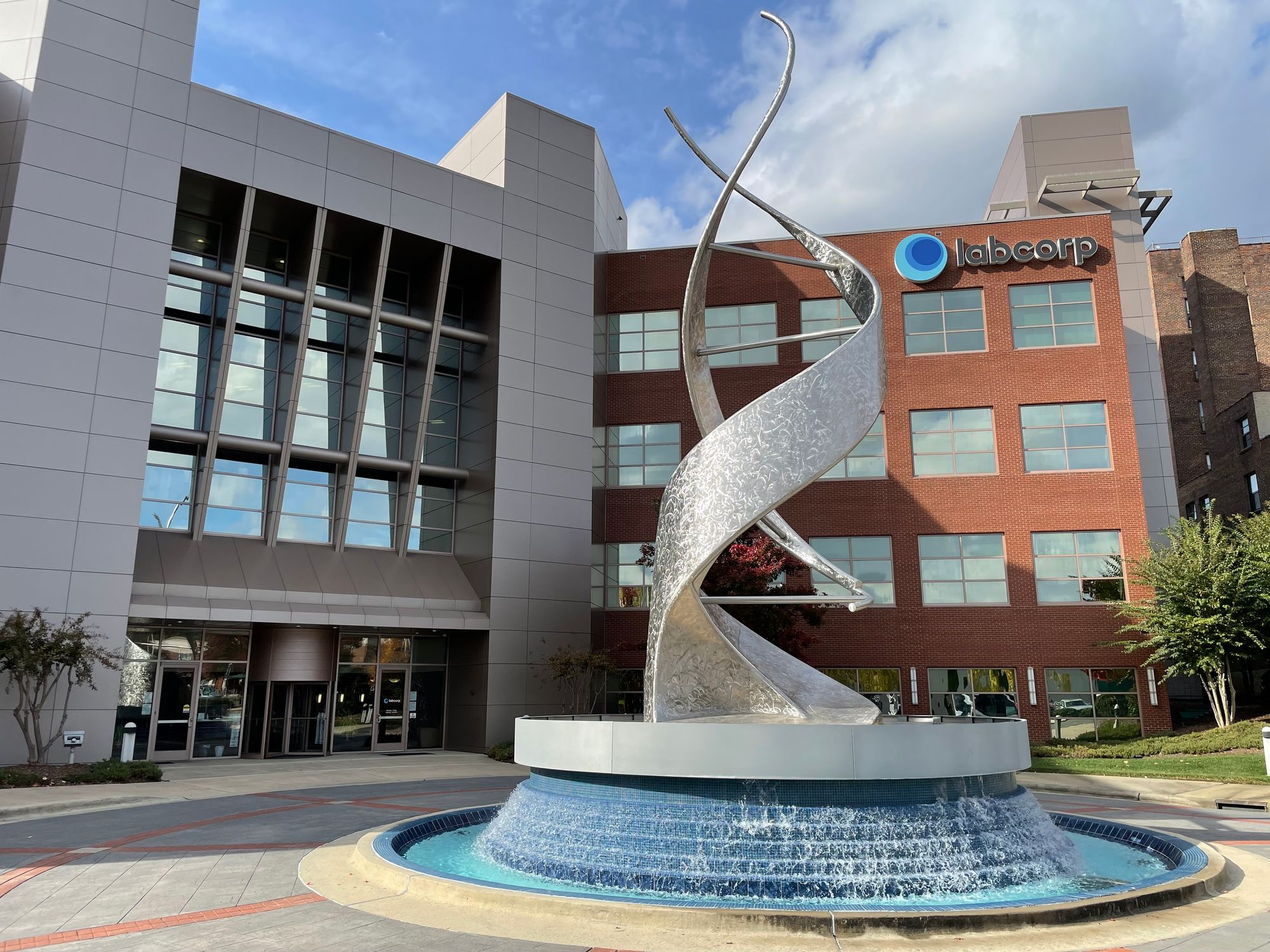 The Ascension deal is just one of many acquisitions Labcorp has made in a buying spree that has given it control over a massive chunk of the country's clinical lab business. To name just a few acquisitions Labcorp made this year: In May, Labcorp acquired the outreach laboratory business of Jefferson Health, an 18-hospital system based in Philadelphia. In August, Labcorp acquired the Tufts Medicine Outreach Laboratory Business from Tufts Medicine, which provides "more than 1.5 million patient experiences a year" across Massachusetts. In July, Labcorp acquired the outreach laboratory business from Legacy Health, a health care provider in the Portland and Vancouver areas. In October, Labcorp acquired laboratory service centers operated by Baystate Health, a not-for-profit, integrated healthcare system serving over 800,000 people throughout western New England.
"These relationships create immediate value for hospital systems, for patients, for communities, while also providing significant growth opportunities for Labcorp," Schechter said about recent acquisitions in a Q2 2023 earnings call. "Although the margins are typically lower than the company average early on, they do improve over time."
Labcorp employees 404 Media talked to were evaluated by Labcorp with different metrics depending on their position and the type of work their specific lab was doing. Two Labcorp employees who worked on patient testing said the company focused on turnaround times, making sure that a certain percentage of patient tests were completed by a certain time. "If they meet their turnaround time of greater than 90 percent, everything else could be thrown in the trash and they could care less," one of them said.
"A lot of times due to how fast paced this is, this causes for a lot of things to be missed out on which of course can negatively affect a patient."
Two other Labcorp medical lab workers and one Labcorp phlebotomist said that in their roles the company primarily cared about volume: How many tests they completed in a day, or how many people they drew blood from.
"We aren't getting rest, we aren't stopping, we aren't really eating, we're not drinking water," the phlebotomist said. "Sometimes somebody would miss, when you know, their veins are right there. That shouldn't have been a miss but they're probably rushing through it."
"It sucks, because a lot of us are introverts, but we all want to help people to begin with," one worker whose hospital lab was acquired by Labcorp said. "Lab work is like 90 percent of a person's diagnostics. So to not advocate for patients as much as we used to when you're a nonprofit, it breaks everybody's morale down on top of the low pay."
All 10 Labcorp workers 404 Media talked to expressed similar concerns that are best summed up as "quantity over quality," as one worker said.
Employees who worked at hospital labs that process tests for patients and were acquired by Labcorp, or who started at Labcorp labs but went to work at non-Labcorp hospital labs, said that the difference in priorities is stark.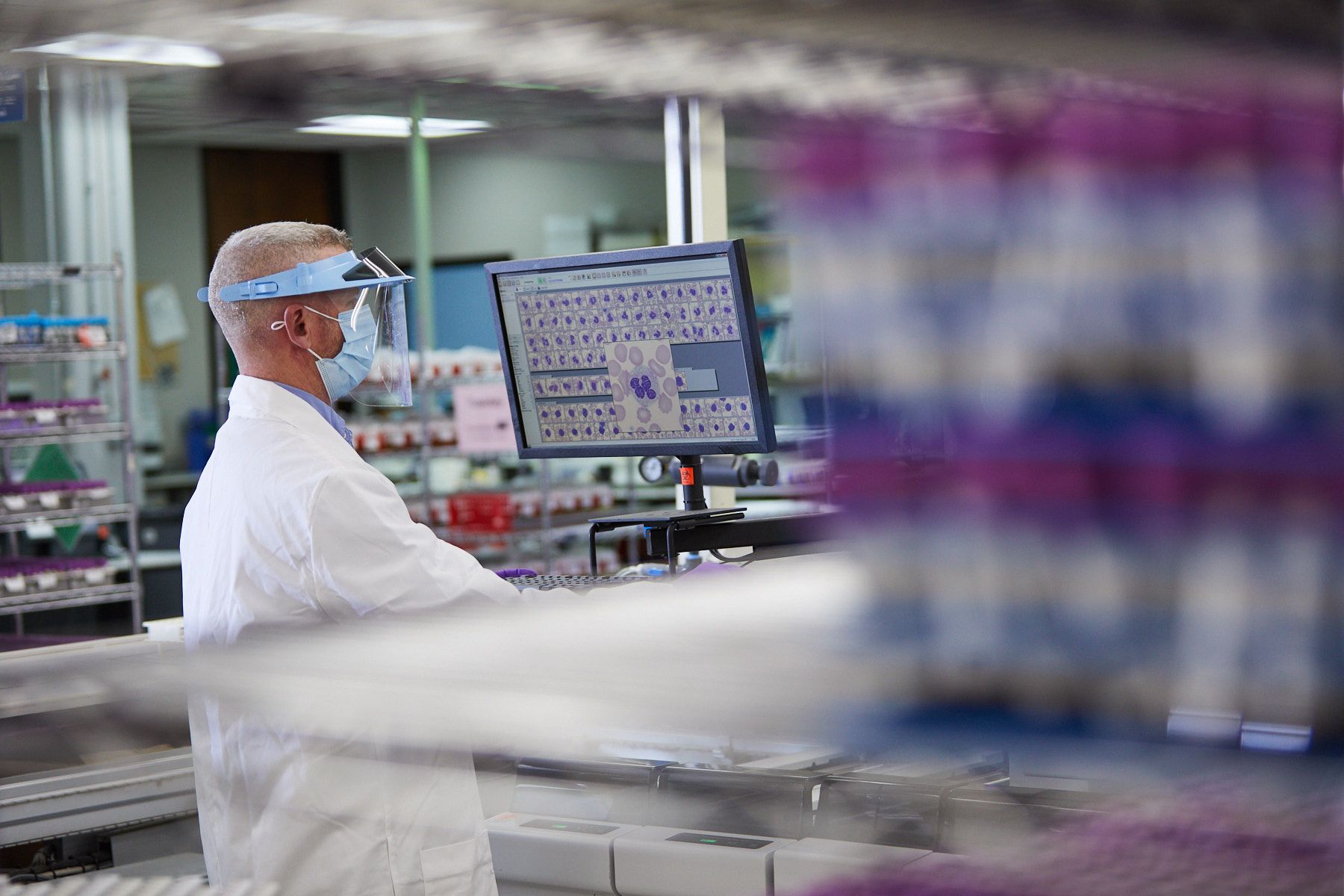 "It's all about as much volume as fast as possible," one Labcorp medical laboratory scientist in the Ascension system told me. "I think the weirdest thing is that they are trying to put together this odd merit system where you are rewarded only with good praises just for the amount of work that you do and just how fast you can do it, but not really the quality of the work itself. A lot of times due to how fast paced this is, this causes for a lot of things to be missed out on which of course can negatively affect a patient."
The medical laboratory scientist explained that, when doing a urinalysis, for example, a lab tech can miss a calcium oxalate crystal which would indicate the patient has kidney stones, or incorrectly count the amount of bacteria or red blood cells in the urine, which can impact a patient getting the proper treatment.
The medical laboratory scientist added that these types of mistakes, whether big or small, happen "so much and will only happen more as they [Labcorp] continue to worry only about how fast results and tests come out instead of the accuracy or quality of them. I don't feel like we are a part of the overall hospital team anymore unfortunately. It is completely alienating and I know they'll just keep squeezing us and cutting back for as much profit as possible. I'm planning on leaving as soon as I can."
One lab tech with decades of experience who left a job at Labcorp after only a few months "because of terrible working conditions" worked at one of the company's reference labs, where at one point they mostly tested people's blood types so they know what blood transfusions to give them. I told this source that, because giving someone the wrong blood type could be potentially fatal, surely mistakes there were not common. The lab tech laughed.
"Most of the testing that I was doing was not an emergency situation test," they said. "It's usually just a screening. But yes, if we missed something like that, if we called somebody positive, who was actually negative and they didn't get their RhoGAM shot, a mom in particular, they could lose their baby."
RhoGAM is an injection given when the mother's blood type differs from the blood type of the fetus. The shot contains antibodies that stop the pregnant person's immune system from reacting to the fetus' blood cells.
"They're just trying to squeeze everything they can out of us."
Sources who talked to 404 Media for this article admitted that they have made mistakes at work generally, and a few cited specific examples, but none said they made a mistake that directly led to a negative patient outcome that they are aware of, and 404 Media has not independently discovered any such previously unreported incidents. A Labcorp lab tech would not find out if they mistakenly said a tissue sample did not display abnormalities that indicated a serious illness, for example, until a patient found out otherwise and said something to Labcorp.
However, Labcorp has been sued for allegedly making mistakes in the past.
In 2014, a man sued Labcorp for failing to detect abnormalities in a pap smear test which indicated his wife had cervical cancer. In 2011, Labcorp said she tested "negative for intraepithelial lesion and malignancy," indicating normal results. A year later, another pap smear diagnosed her with an aggressive form of cervical cancer. She died a year later. The case was settled in 2018 and the terms of the settlement were not disclosed.
In 2001, a woman sued Labcorp for the exact scenario 404 Media's source feared: Labcorp told her she had a positive blood type, but it was actually negative. Because of this, she was not administered RhoGAM during her pregnancy, and lost her baby. The case was also settled in 2002 and the terms of the settlement were not disclosed.
In 2014, a federal jury decided Labcorp had to pay the husband and two children of Darian Wisekal $15.8 million in damages after she died of cervical cancer due to a medical misdiagnosis in which Labcorp failed to accurately read her pap smear test. The Labcorp employee who wrongly read her slides as negative testified that she read about 80 slides a day.
"We had gone through the discovery process where I learned how long it took her to read a slide that was normal, and how long it would take her to read an abnormal slide," the Wisekal family's lawyer, Sean Domnick, told 404 Media on a call. "I took her through the math in my cross examination of her, and she ultimately admitted that if my math was correct, she didn't have enough time to do her job."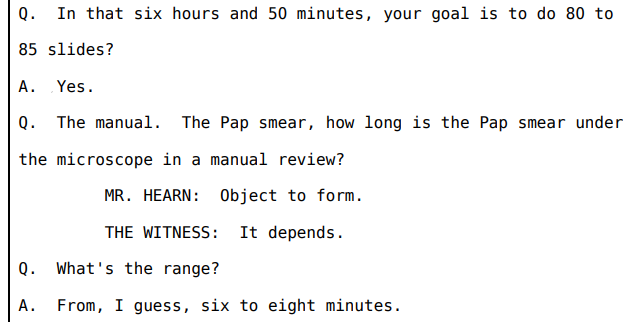 Domnick told Florida's NBC affiliate WPTV at the time that Labcorp needs to "stop overworking your technologists. You need to let them have the time that's necessary to do their jobs right."
"One mistake I made personally was when [I] put two of the same tissue in the same vial, but they're two different animals," a Labcorp employee at the Madison location, where Labcop tests pharmaceuticals before they make it to market, said. "That's a huge discrepancy, because it's like, oh, which one did it belong to? That's a whole data point. That happened because I was going as fast as I could, because I wanted to get out on time, and I was tired."
I viewed internal emails from management at a Labcorp lab in the Ascension system showing that the lab, which was already struggling with staffing shortages, tried to calm employees who were leaving in droves after Labcorp took over.
"Things got worse in terms of staffing, because Labcorp came in, they tried cutting costs, they tried screwing people over as far as shift differentials," a source at that lab said, referring to the practice of paying employees more for working night shifts, which they said Labcorp tried to change.
"So because of the short staffing, and because [the lab] got sold to Labcorp, people literally started quitting," the source said. "I think that was the straw that broke the camel's back for a lot of people."
"First and foremost: we are short," a bold and underlined line in an email to employees from a manager at a Labcorp lab said. The next part was also written in red font: "If you are starting to get burnt out PLEASE let me know so I can get you a break. You are all working hard and have been dealing with excessive shortness's [sic] since last October."
The manager who sent the email, which intended to clarify the lab's attendance policy, wrote in the email that they were worried about workers experiencing burnout, but at the same time outlined a strict paid time off policy. A Labcorp employee told me they did not blame the manager for this policy, but rather Labcorp corporate, which was forcing the manager to handle the workload without sufficient resources.
"Bereavement requests need to be accompanied by an obituary or pamphlet to be paid bereavement or have it excused. Five days is the maximum. I generally do not give the full bereavement unless the person passing is 100+ miles away," the manager wrote. "Vacation right now is limited due to our staffing but I do have new staff coming on. If I can arrange coverage for you I will. Right now only person title can be off at a time: 1 tech; 1 lab aid."
"In my department we've had six people leave in less than seven months," a medical lab assistant in an Ascension lab acquired by Labcorp said. "They've been having a hiring freeze for months. They're just trying to squeeze everything they can out of us."
Emails from a manager at this location viewed by 404 Media said that, as of September, the company was able to meet a "resource deficit," filling "approximately 90 percent of our 2,081 posted requisitions."
"Moving forward, we'll work toward a more sustainable model of hiring—with less slowdowns and ramp-ups. Things like continuing high KPI [key performance indicators] deliveries and continued focus on employee engagement will get us there," the email said.
The email also links to an article on Labcorp's website celebrating its partnership with Ascension, saying that it hired 687 people in six months and reduced employee turnover by 30 percent.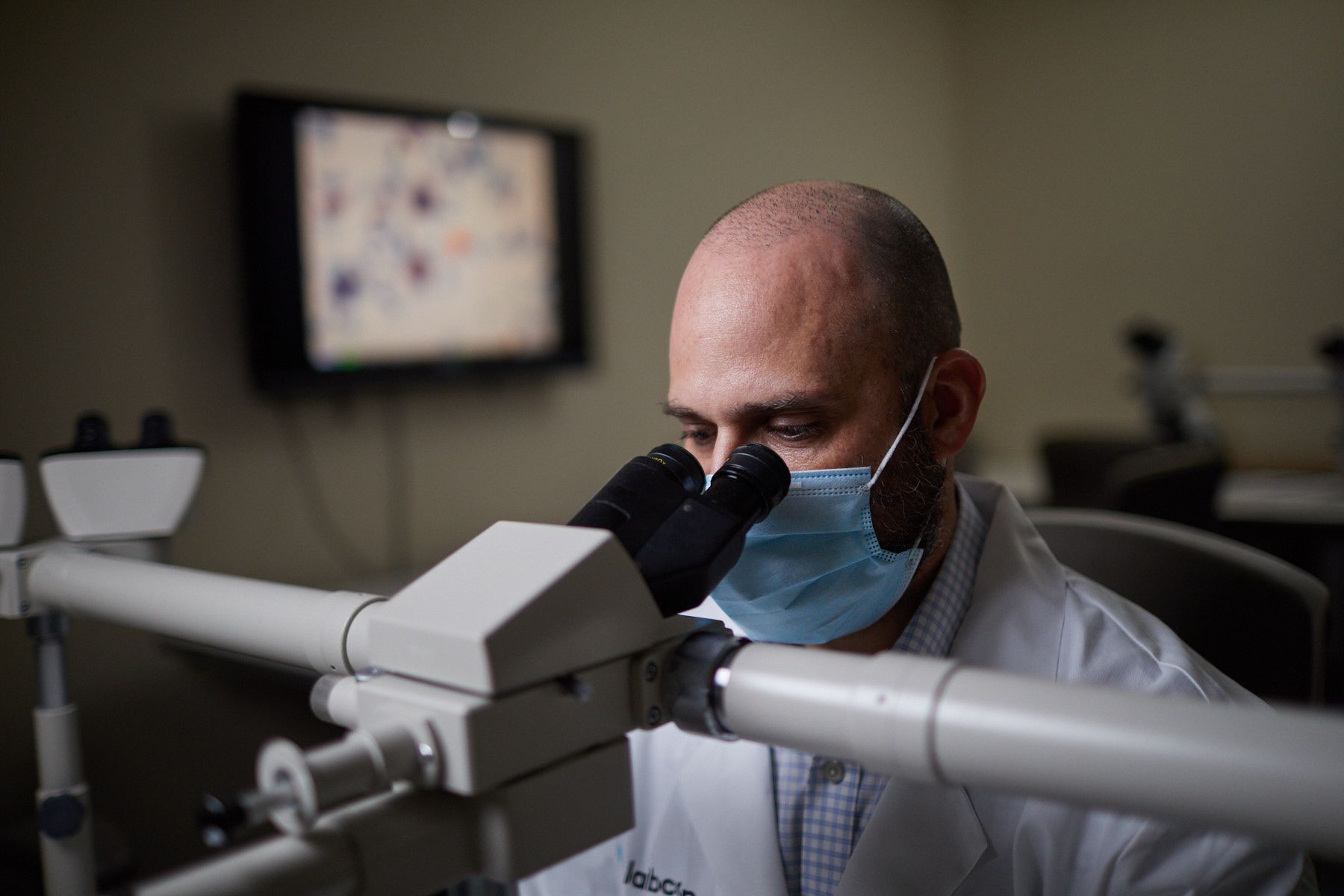 Charles Nystrom, a director at 1199 SEIU, a union representing lab techs mostly in New York, said that while non-profit hospitals have plenty of similar labor issues, those problems are much worse at private, for-profit companies like Labcorp.
"The driving atmosphere at a giant, nationwide corporation is constantly trying to increase its profits and accumulate more and more of the market share," he said.
Another difference between labs that are part of hospitals and remote Labcorp labs is that when doctors send specimens for testing, sometimes out of state, there is less accountability with the remote Labcorp labs.
"When the testing is done in the hospitals, the doctors are there. They are seeing the patient and they are talking to the lab manager and sometimes the lab techs. If there are problems in the lab with accuracy or turnaround time, they will intervene," he said. "Even managers and department directors and department heads in non-clinical settings—when a doctor tells HR to do something, HR will do it. Doctors have a lot of control and power. There's a level of accountability you lose once the test is far away."
Robert Michel, editor-in-chief of the clinical laboratory trade publication The Dark Report, consultant, and leading expert on the management of clinical laboratories, told me that the clinical laboratory business has turned into a duopoly between Labcorp and Quest Diagnostic, which industry insiders call "the blood brothers." Michel said that Labcorp and Quest are rolling up the lab market for the same reasons many other industries in the United States have consolidated—to try to deliver higher profitability and growth for shareholders by leveraging scale.
A hospital lab that only processes tests for patients in that hospital, or other hospitals in its system that are close by, will process fewer tests, which will cost more money to process per test, and produce smaller margins. A large Labcorp lab operates on a larger scale, processes more tests, which are cheaper to process per test, and produces greater margins. Most aspects of healthcare require patients to be physically present for examinations or treatments, but lab work can be moved and, in theory, made more efficient because specimens can be shipped to a centralized location. That makes lab work particularly susceptible to consolidation.
"Labs like Quest and Labcorp are very volume dependent to have an average cost per test which is low," Michel said. "That's what's driven the commercial lab business, which really emerged in the early 80s with publicly traded lab companies. They very quickly learned that if I, Robert, had a commercial lab here in Austin, Texas, they could buy my lab, they could then close my lab facility, sell my analyzers, lay off my couriers, my phlebotomist, and my med techs, and direct all those specimen referrals coming from the doctors who were my clients into their hub. And then they make a larger profit on that referral business than what I would have done in my lab here in Austin."
However, while this model increases profit margins, it's not necessarily more efficient for patients or hospitals. Michel used a theoretical vitamin D test and the Ascension hospital lab in Florida that was sold to Labcorp as an example.
"Before it was sold by Ascension to Labcorp, the inpatient lab had enough vitamin D volume in the specimens coming in from office based physicians as well as inpatients, to make the test in house […] The labs there can run [the vitamin D test] for a patient and the results are available in three to four hours or less," Michel said. If that same test was sent off to an off-site Labcorp lab like the one in Tampa, he added, the patient is not going to get those results back until the next day.
That's not ideal for the patient, who could get the right care sooner with faster test results, or the hospital, which has to keep the patient in a hospital bed longer because it's waiting for test results.
As Labcorp increasingly consolidates the lab business and squeezes whatever margins it can, the easiest way to continue to deliver greater profits to shareholders is to cut costs.
"They're talking to investors saying, 'We're taking 3%, 5%, 10%, out of our costs, and we're doing that every second or third or fourth year,'" Michel said. "And if you've worked inside a lab, you know that you can't keep doing that. And that's the pressure that you hear the staff and the employees telling you about."
"Physicians, any practitioner would not be able to do their job, if it weren't for us and our efforts in the lab," said one hospital lab worker who quit when their lab was acquired by Labcorp. "And we're oftentimes overlooked, which we've kind of come to accept […] I think that it significantly affects patient care whether they want to admit it or not," they said, speaking about how lab workers are treated generally, not just at Labcorp.
Lab workers are a part of the medical system that is kept in the dark. At least one time, quite literally. Two Labcorp employees at the Madison location told me that before Thanksgiving in 2021, the power went out. The post-life department at Madison, the same one where a manager used a former employee's severed finger as a cautionary tale, is deep inside the building, in windowless rooms. The lights went out, and so did the ventilation system that clears the space of noxious formalin fumes. Standing in the room in front of those sharp blades and hazardous chemicals slowly building, workers struggled to find their way out. They couldn't pull their phones out to use the flashlight feature because Labcorp doesn't allow phones in areas where animals are handled. Two workers said that this is because Labcorp fears PETA and other animal rights activists leaking photographs, and that Labcorp security will randomly check employees in these areas with metal detector wands to make sure they don't have their phones.
"We had to use our little laptop computers and just kept turning them on to use a way to get to the light," one worker said.
"They kept people trying to work for a little bit but then even the team lead in there acknowledged that they could really smell the formalin building up so they let everybody out to the area by the desks which is outside the trimming room," another worker at that location said. "But it wasn't long before they could start smelling it out there too. But then hours passed before people were allowed to go home."
As Labcorp employees told me, how they are treated, and how that treatment could impact patients, has not erupted as a scandal only because people don't see or think about it. One Labcorp employee said the entire world paid attention to the story of Elizabeth Holmes, who was sentenced to 11 years in prison for lying about the company's ability to deliver reliable blood test results, because it was such an outrageous fraud, but that people should be concerned about working conditions at Labcorp, which potentially could impact more people.
"[Labcorp isn't] knowingly trying to falsify results or anything," the Labcorp worker said. "It's just such a big, top heavy bureaucratic organization that a lot of mistakes were being made and a lot were not really being caught."
"I wish I could say I am surprised by it," Sean Domnick, the lawyer who sued Labcorp in 2014 for failing to accurately read a pap smear of a woman who died from cervical cancer, said about current working conditions at Labcorp. "The profit motive that they have had has overwhelmed the accountability side of it. There have been some changes in technology in the last 10 years, but in my review of materials and belief, I don't think that has alleviated the burden on the people who are out there. The technology just has them reading more slides every day."