As Elon Musk's Twitter continues to gleefully collapse before our eyes, overtaken by racist images, trash ads, and verified users sharing disinformation, dedicated posters who have had enough have jumped on to a few different lifeboats. Dril is on Bluesky, your mom probably has a Threads account, and many sickos including us at 404 Media are getting used to Mastodon.
But none of these are as interesting or fun as SANANDREAS.TXT, a Grand Theft Auto V mod created by modding collective 2girls1comp, which has emerged as an unexpected Twitter alternative. The mod allows anyone who installs it to write a text message that will float anywhere they can reach on GTA V's sprawling game map, San Andreas, which is modeled after Los Angeles and Southern California. Anyone who has the mod installed can also see the floating text messages written by other players.
2girls1comp was founded by Marco De Mutiis and Alexandra Pfammatter. "San Andreas has become this map, which is filled with text, but you have no idea who wrote what and when," De Mutiis told me on a call. "It's a very weird spatial experience through the map, when you get like half a conversation and you don't know who initiated it."
The disjointed nature of this type of communication is accentuated by spreading it over a giant virtual map, but it's a defining feature of all social media networks, and especially Twitter, where people float in and out of conversations where statements can be taken out of context and be interpreted in radically different ways depending on what people are saying before or after them, which any given user doesn't have that much control over. Most mainstream social media platforms are a giant, messy soup where posts about political activism are interwoven between pictures of cute cats and then, suddenly, something incredibly racist. We're all creating and swimming through it at the same time. SANANDREAS.TXT just leans into that mess.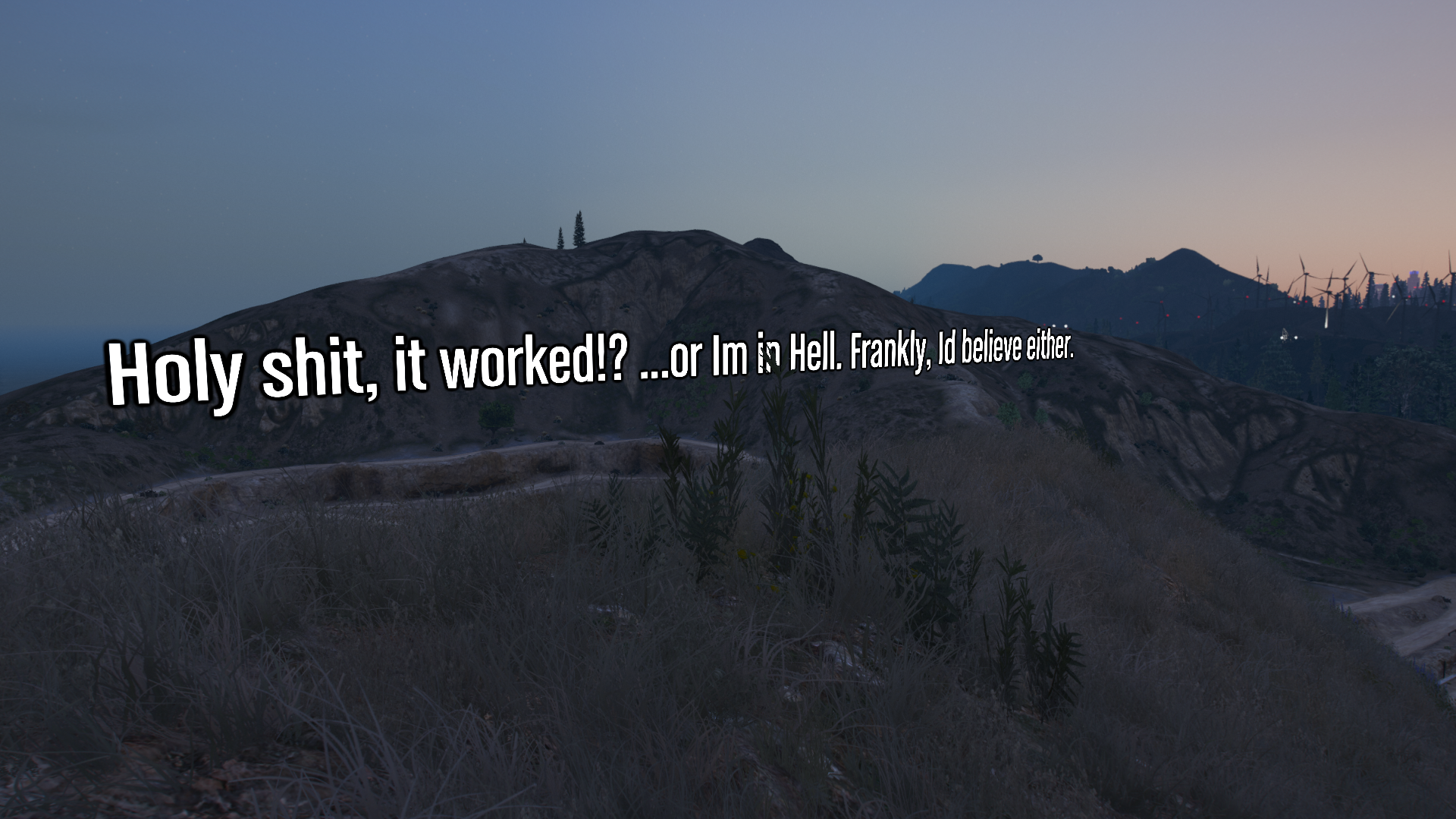 "That's something interesting about social media. It's an asynchronous feed of different people, but they always try to give you this illusion of a conversation in real time among people. I think somehow [SANANDREAS.TXT] kind of showed the problem with this sort of social media communication," De Mutiis said.
SANANDREAS.TXT is just the latest mod in 2girls1comp's growing body of work, all of which uses GTA V as its medium. The collective's first piece, The GTA V Piano of the Dead, turned the game into a musical instrument, mapping its assets (the sounds of characters screaming or dying) to the seven tones of the C4 octave. Their mod, Every Thing, sequentially spawns every object from the GTA V database until the game eventually crashes. My personal favorite is F*** the Policy, a mod that makes the police read the game's End User License Agreement at players when they are bedding chased by the cops.
Pfammatter told me that the pair didn't know much about modding before they got started, and learned everything from the extensive knowledge and documentation built out by GTA V's thriving modding community. Working with the game as the medium, and operating within a community that doesn't traditionally think of modding as a form of fine art, is part of what makes their projects so interesting.
On one hand, the modding community has been very supportive, providing useful feedback and support where Rockstar, the GTA V's developer, hasn't. On the other hand, the modding community is bringing its existing perspective to 2girls1comp's mods. The Every Thing mod, for example, which, I can read as a piece that leverages the incredible amount of labor that goes into 3D modeling all the objects in the game to say something about consumerism, is being used by users to show how powerful their PCs are—the longer the mod can keep generating assets before the game crashes, the more powerful the PC. In SANANDREAS.TXT, some users immediately tried hacking the mod, generating thousands of messages into coordinates that don't technically exist in the game's map.
But Pfammatter and De Mutiis don't view this as a bad thing. The modding community is doing to their work what 2girls1comp is doing to GTA V.
"This reappropriation in general, it is almost inherently a political act, because you're taking a part of the game that you don't agree with, and you're trying to model it towards something that works for you," Pfammatter said. "We're actually also kind of like—excited is the wrong word—but like, open to see where this is going."