A senior Bandcamp manager, J. Edward Keyes, the company's editorial director, publicly opposed his coworkers' decision to unionize in May, saying that they are "privileged tech workers cosplaying as Amazon warehouse workers," according to Keyes' Instagram posts viewed by 404 Media.
"There is a strong piece in white-collar tech workers who make north of 70k a year appropriating the language of the legitimately oppressed for anyone with the guts to write it," Keyes wrote in an Instagram stories post in May, shortly after Bandcamp workers voted 31 - 7, overwhelmingly in favor of forming a union. "TL;DR: Fuuuuuck Bandcamp United."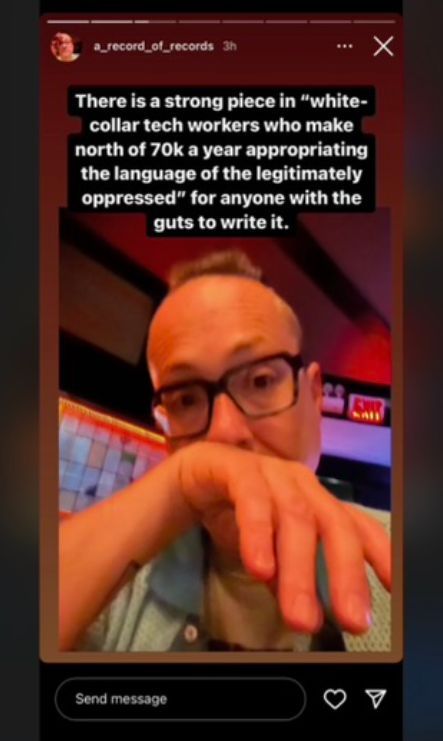 According to his Linkedin, Keyes managed Bandcamp's editorial team. Bandcamp is a platform where artists can sell their music to customers, but since 2016 has also operated Bandcamp Daily, an online music publication currently managed by Keyes. Because he was in a managerial position Keyes was not eligible for union membership.
Epic Games, which owned Bandcamp at the time Keyes posted his statements, did not respond to a request for comment. Bandcamp United, the Bandcamp union, declined to comment. Keyes did not respond to a request for comment.
"It's very shocking that someone holding that position of power would say such disparaging things about workers who are just trying to advocate for the betterment of their conditions," a Bandcamp employee who asked to remain anonymous for fear of retaliation told 404 Media. "It's becoming a norm for newsrooms to unionize, so the fact that this music publication is headed by somebody who's anti-union is pretty concerning."
Epic Games, the company that owns the Unreal Engine, Epic Games Store, and in recent years has seen incredible profits thanks to the huge popularity of Fortnite, acquired Bandcamp in 2022. Bandcamp United won recognition in May 2023 through an election administered by the NLRB.
According to an email viewed by 404 Media, Keyes apologized to Bandcamp staff for his statement but did not refer to the union specifically. In the email, Keyes also said that Epic had "written up" the incident and that it was noted in his "HR file."
When it acquired Bandcamp in 2022, Epic said that Bandcamp would "play an important role in Epic's vision to build out a creator marketplace ecosystem for content, technology, games, art, music and more." In September, a little more than a year after Epic acquired Bandcamp, Songtradr announced that it will acquire Bandcamp as Epic cut around 830 jobs across the company. Epic and Songtradr agreed to an "asset sale" of Bandcamp, meaning Songtradr is only buying parts of Bandcamp as opposed to the entire company. As part of this process, Epic has laid off about half of Bandcamp's staff. The other half of the staff have accepted job offers to work on Bandcamp at Songtradr.
Bandcamp's entire union bargaining team, the eight union members democratically elected by their peers to negotiate their first union contract, were laid off by Epic and not offered new positions at Songtradr, but Songtradr said that it made decisions about which Bandcamp employees it would keep before they knew their union status.
Songtradr also said that its "evaluation considered several factors," including "performance evaluations." Songtradr did not respond to 404 Media's question about whether it knew of Keyes's Instagram posts or if it had access to his HR file from Epic.
More recently, Keyes made an Instagram post where he criticized a Pitchfork article covering the Songtradr's acquisition of Bandcamp and the layoffs.
"Please fucking stop writing things about my website you absloute amateur journalists," Keyes wrote on Instagram. "Your childish Twitter-based reporting is hurting the people who work here. You are children filing reports based on tweets, and you have ruined my week. Also, fuck Pitchfork forever, you are an anti-intellectual joke, and I'm your enemy for life."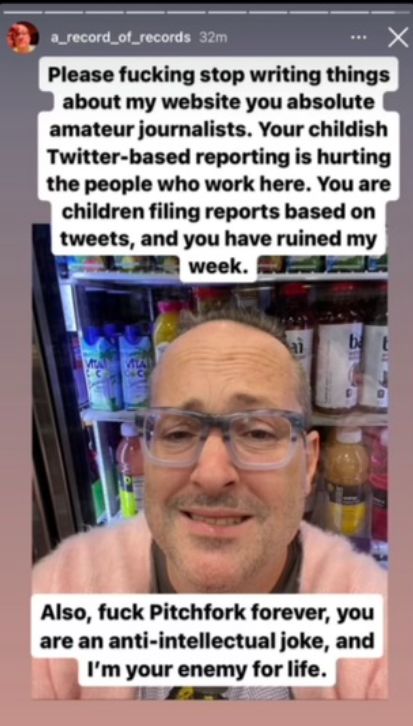 In the Pitchfork article, writer Philip Sherburne recounts recent events at Bandcamp, and argues that selling it to Epic, a video game company, and now Songtradr, a music licensing service, doesn't bode well for Bandcamp fans and the music industry as a whole. Sherburne also makes the case that Bandcamp's editorial operation, which was hard hit by the layoffs, was particularly important.
"This week's outpouring of grief and rage on social media is a testament to the fact that many, many people—fans and musicians alike—see Bandcamp as more than just a store. They see it as part of the culture, a crucial lifeline for scenes where love, not money, is the main driver (yet money is still kinda necessary to pay the bills)," Sherburne wrote. "Bandcamp's editorial operation has long supported this niche ecosystem, so gutting the editorial department suggests to me that Songtradr doesn't care about Bandcamp's original vision. (An editor specifies that out of an editorial staff of five, two were laid off and three were retained.) Kneecapping Bandcamp Daily would represent a major loss for online music discourse. It's one of the few publications left that puts significant resources into covering obscure artists from around the world."

"I have a lot of respect for Joe—I wrote for him at eMusic and then Wondering Sound—so obviously his comments sadden me," Sherburne told 404 Media in an email. "And I hope it goes without saying that I don't want Bandcamp to fail; it's hugely important to me as both a listener and a label owner, and I will be thrilled if in five years I can look back at my piece and think, 'Boy, I sure overreacted.' But from Epic and Songtradr's lack of transparency around the layoffs to the very nature of Songtradr's business model, nothing about these events has inspired confidence in the future of the company. I would love to be proven wrong."