Anyone who has tried to buy anything on Amazon over the last, say, five years, has probably realized that it can be incredibly difficult to find the thing you're actually looking for, even if you search for a specific product. Amazon's product search pages are filled with pay-for-placement garbage that has made the site a nightmare to shop and has made selling on the platform a nightmare as well because companies who don't pay-to-play get buried.
The Federal Trade Commission has noticed that Amazon has become a monopolistic shithole, as well: Large portions of its massive antitrust case against the company filed Tuesday focus on the fact that "Amazon can extract billions of dollars through increased advertising despite worsening its services for customers."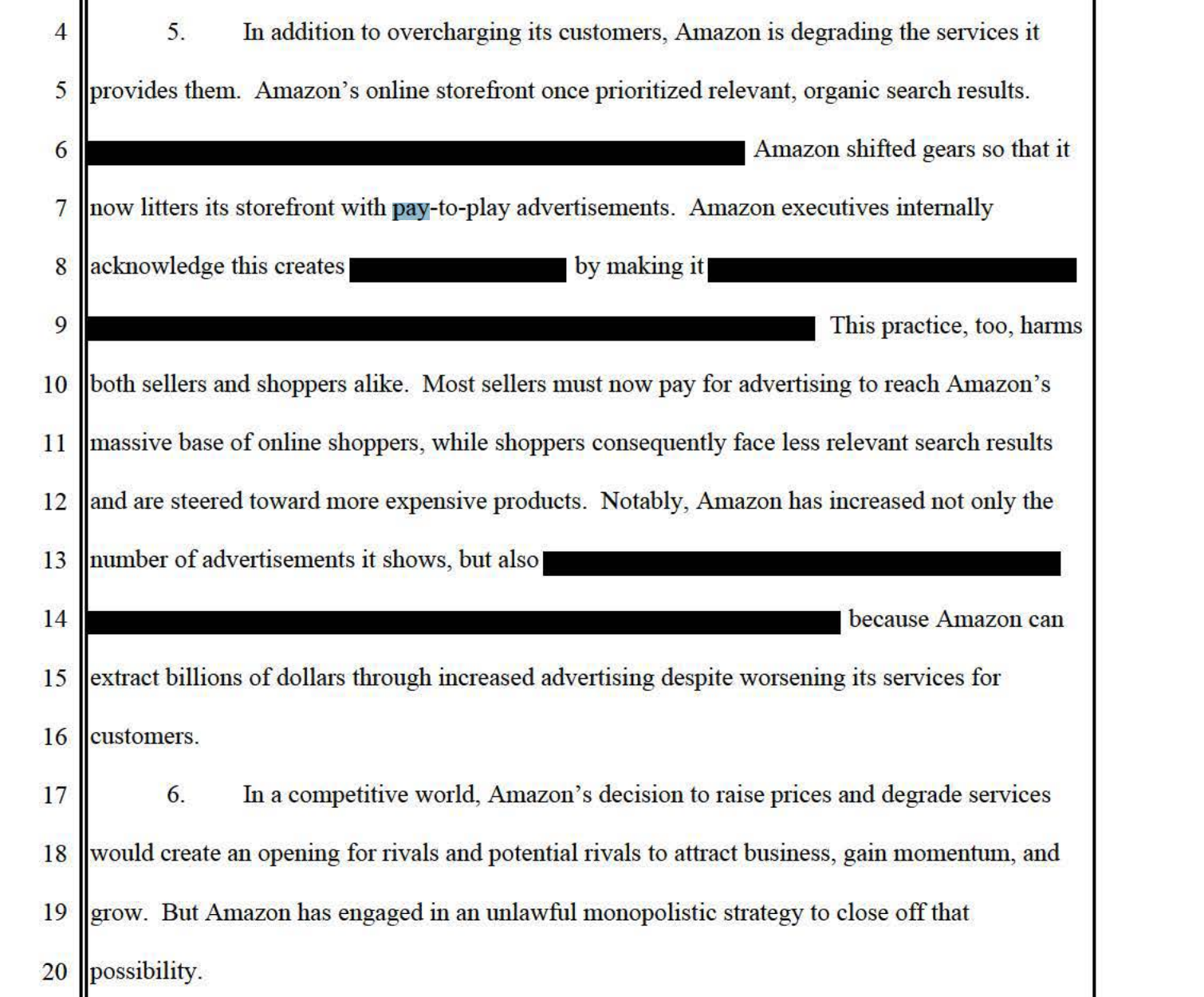 A quick example. When I searched for "Apple lightning cord" on Amazon, my top three results were for cables made by a company called "Durcord," then an Amazon Basics cord, then a four-pack of cables made by a company called Susnwere, then, finally, a cable made by Apple itself. When I searched for "Anker lightning cable," the top ad slot was for three Anker charging blocks—NOT the lightning cable. Then I was given lightning cables for a company called Gyusity and one from a company called KIYODA, before the Anker cable showed up. When I searched for simply "lightning cord," none of the results on the first page were from Apple, many of them were sponsored, and the top result for a product called "Apple iPhone Charger Cable" was from a company called Uzento.
While parts of the FTC's complaint are redacted, the general gist is obvious. "In addition to overcharging its customers, Amazon is degrading the services it provides them. Amazon's online storefront once prioritized relevant, organic search results," the FTC wrote. "Amazon shifted gears so that it now litters its storefront with pay-to-play advertisements."
"This practice, too, harms both sellers and shoppers alike. Most sellers must now pay for advertising to reach Amazon's massive base of online shoppers, while shoppers consequently face less relevant search results and are steered toward more expensive products," it adds. "In a competitive world, Amazon's decision to raise prices and degrade services would create an opening for rivals and potential rivals to attract business, gain momentum, and grow. But Amazon has engaged in an unlawful monopolistic strategy to close off that possibility."
Subscribe
Join the newsletter to get the latest updates.
The FTC complaint says that Amazon "temporarily relaxed its coercive conduct" at some point, a "decision [that] was immediately popular with both shoppers and sellers." The FTC notes that keeping those changes "would threaten Amazon's monopoly power."
By turning its own website into an ad market and purposefully making its own site less user friendly and more difficult to search, Amazon has created huge profits. The specific numbers are redacted, but form a core part of the complaint: "Amazon's price hikes in the form of pay-to-play advertisements have been enormously lucrative, leading its revenues from U.S. ad sales to skyrocket," the complaint notes. "Sellers pay. Shoppes get lower-quality search results for higher-priced products. Only Amazon wins."
"Amazon's Search Results Pages are cluttered with advertisements," the FTC wrote.
💡
Do you sell on Amazon? I would love to hear from you. Using a non-work device, you can message me securely on Signal at +1 202 505 1702. Otherwise, send me an email at jason@404media.co.
The 172-page complaint is worth reading, but other notable points: The FTC alleges that sellers who lower their prices can be buried on search until "they become effectively invisible." It says that, internally, Amazon recognizes that sellers "live in constant fear," of the company and that some sellers can face "total exile from Amazon's Marketplace."
I almost entirely stopped using Amazon years ago because of the way it treats its workers. But quitting the platform because of its horrendous, coercive user interface is a good reason to stop using it, too.